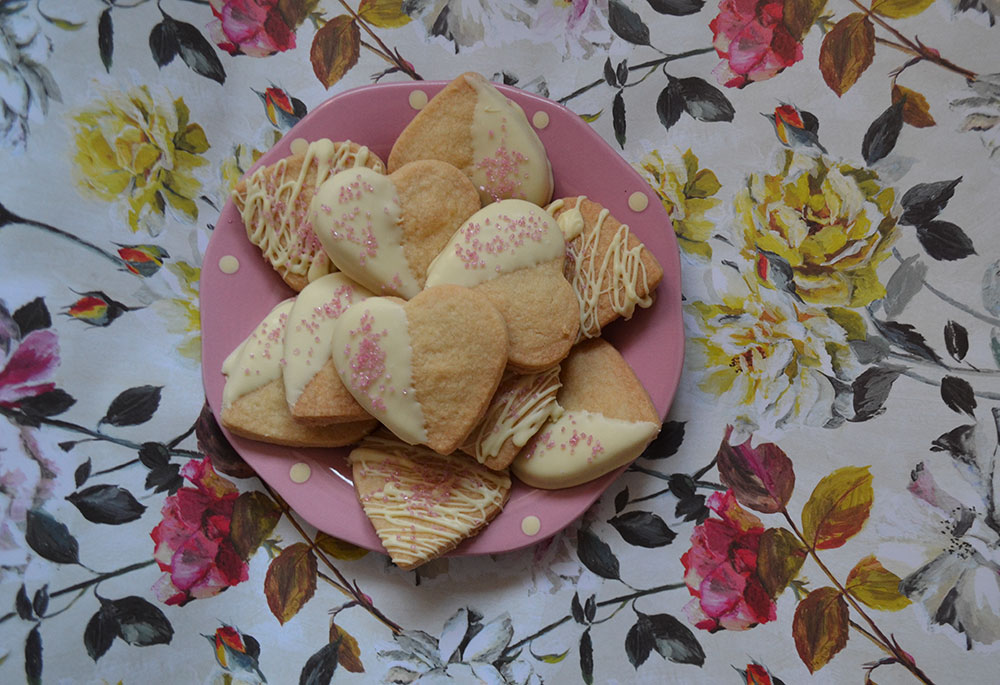 We make shortbread lots - most people love it so its a pretty safe bet for playdate treats and gifts, and because it uses so few ingredients I generally always have them to hand to make a quick batch. I also find it great for making with the girls, they love using different cutters for the shapes, and I find that its great for them as the less you 'do' with it the better they turn out. So no lengthy kneading and ingredients slopping out of the bowl!
Generally I make them simply sprinkled with sugar, but they are delicious dipped in chocolate for a little more of an indulgent biscuit. I haven't written the amounts for the chocolate as it depends on how big your biscuits are and how much you dip! But use your judgement, I break up my chosen chocolate and melt it in the microwave for 30 second bursts, dip or drizzle the biscuits with the chocolate, place onto baking parchment and then sprinkle with your chosen decoration. If you're feeling fancy white chocolate and edible flower petals look so pretty, however as I did this with the girls pink glittery sprinkles were our decoration of choice!
Shortbread Hearts

6oz Plain Flour
2oz Caster Sugar
4oz Butter

Preheat the oven to 157c (I realise this is an odd temperature, but its from my Mum's recipe and it always works!! You can round up if you wanted and I don't think it would really make a difference!)

Place the flour and sugar in a bowl and add the butter and rub in with your fingertips. Once its stuck together, knead it untill it comes together as a dough - it should go golden and smooth when its ready to roll. Dust the surface your working on with flour and the rolling pin, then roll out to the thickness of shortbread that you want. Cut out the biscuits and place on a tray lined with baking parchment and prick with a fork.
Bake for 25 minutes - my recipe actually says for 40mins but mine never take that long, but if they need longer just keep giving them an extra 5 minutes. Leave them on a wire rack to cool and then sprinkle with sugar or decorate with chocolate - enjoy!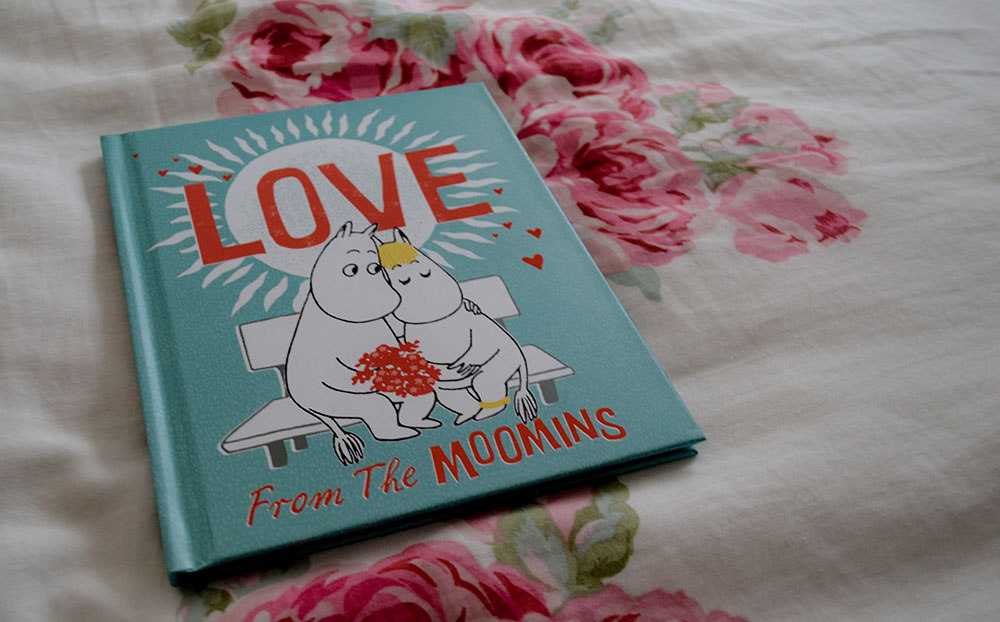 We don't really do Valentine's presents generally but I saw these books in my local Foyles and I could not resist them - granted my will power isn't very strong for childrens books, I just love them. While I'm on the subject the Picture Books Blogger is a fantastic blog showcasing the best kids books, I look at it so regularly, particularly if I know I'd like a specific book for different themes or role models etc for the girls or gifts. Definitely worth checking out if you love childrens books.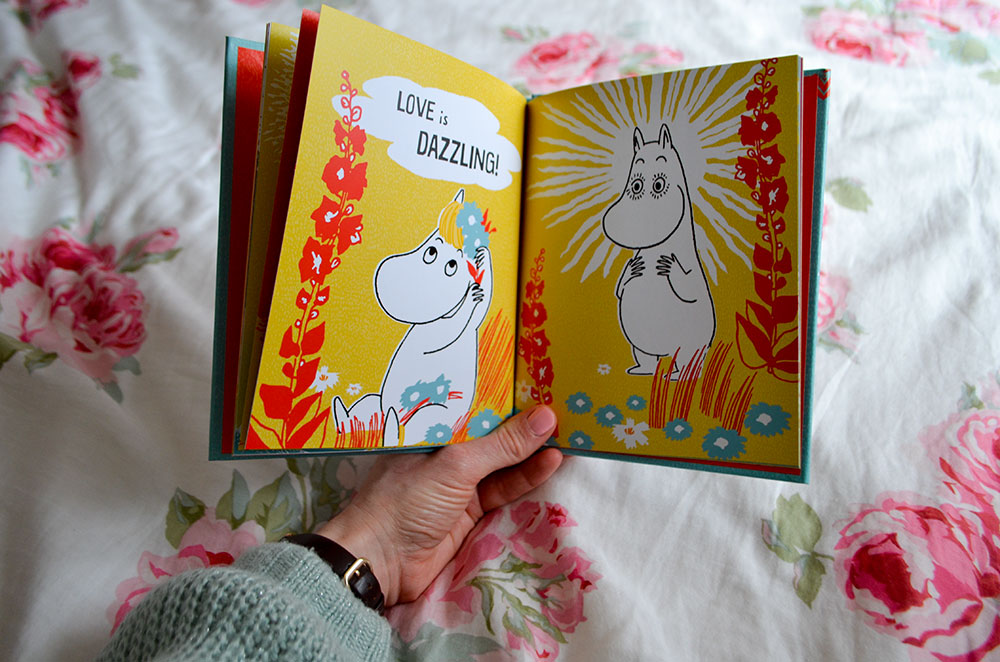 I mean who doesn't love the Moomins - so beautifully illustrated and a prefectly simple story about love I know that the girls will love this. The colours are so beautifull, the illustrations warm, affectionate and everything you'd expect from Tove Jansson.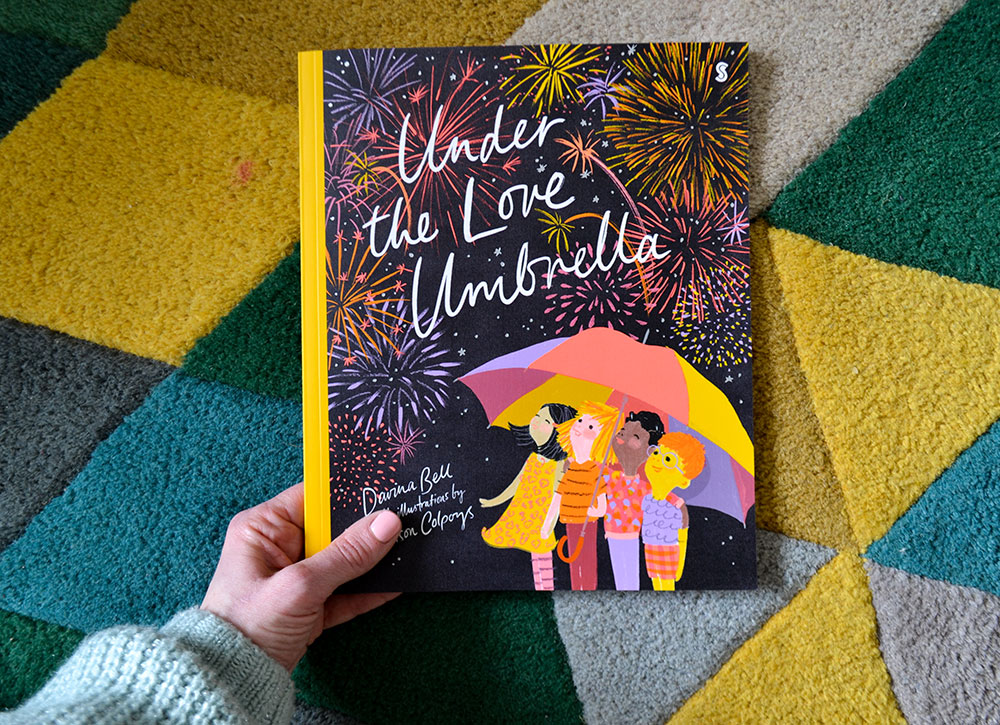 The bright happy cover on this book completely won me over. Under the Love Umbrella by Davina Bell and Allison Colpoys is such a treat for the eyes, I love the colours and the message is so beautiful. All about unconditional love and families, I love how the message is so accessible to children and the illustrations are wonderfully diverse, expressive and look so exciting for a child to look at. I can't wait to give this to the girls, I just know this is going to be a family favourite.
While we don't really do gifts I love making Valentine's themed things with the girls, so I'm sure I'll be posting again soon with some making ideas too. I hope you're all having a good week, Happy Friday!xx
Posted under – Kids, Making, Baking
Tags – Baking, Making, Shortbread, Family Fun, Valentine's Day, Childrens Books, Kid Lit, Live Colourfully, Live Creatively, Make it yourself
---
You might also like...