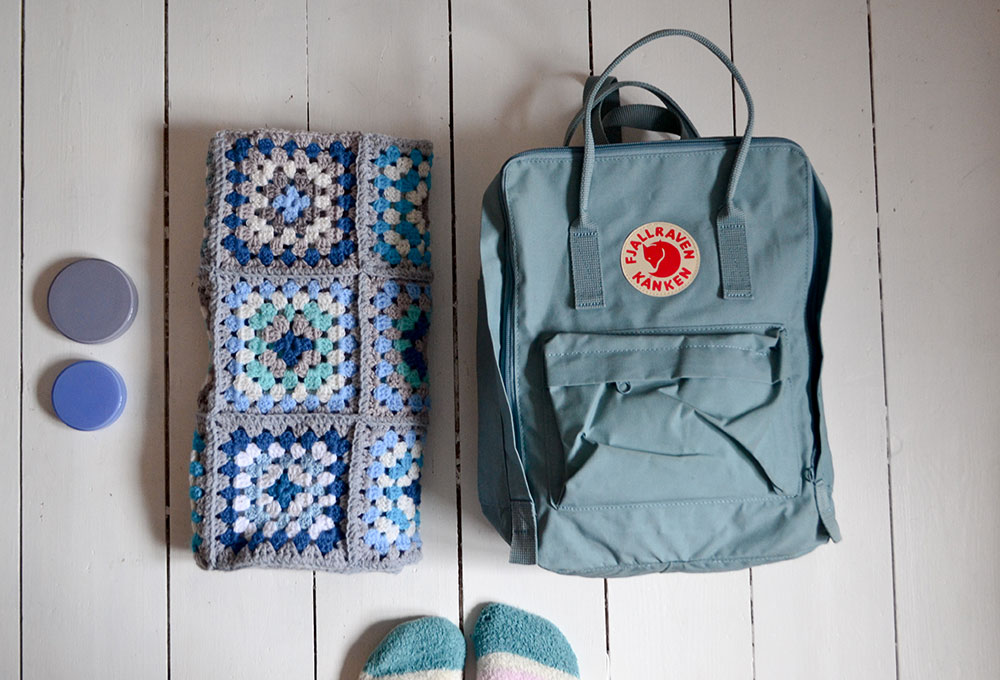 Crochet
Getting back into crochet, I'm such a novice with crochet - I can't do anything beyond a granny square, but I find it so therapeutic. Its something I can sit and do at the end of the day in front of the tv, but also feel like I've achieved something. There are so many incredible aspects to making, I love it in all its forms, but for me this type where I sort of switch off while doing it is just the perfect way to unwind. I saw a great video from Makelight recently about creating everyday, it was so inspiring. I do alot of making generally but there is something about making that's not work related that is really comforting. I love picking the colours and checking how they look alongside eachother, so satisfying. This happened to be for a beautiful baby boy I know, I felt so pleased finishing it, you know that lovely sense of acomplishment when you've made something that takes a little while? It's spurred me on to make a couple more for some future baby bundles.
Lionheart Magazine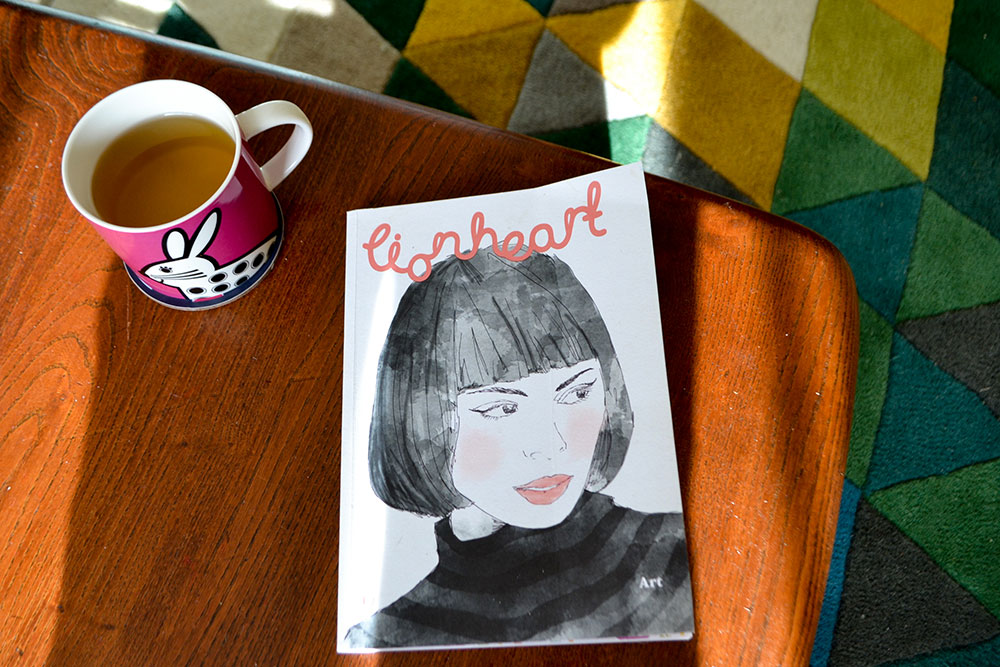 I was so pleased to design the inside cover pattern (and a couple of other pages) of this beautiful mag. The theme this time was art and so I set to work using Matisse (my colour hero!) as my muse – I'm really pleased with how it looks and so honored to be alongside all the wonderful writing and illustration. I recieved mine in the midst of the girls having chicken pox and it was such a welcome relief! There are some amazing articles in there, I haven't had a chance to read it cover to cover yet, but am savouring it so I can relish in its gorgeously thick pages - If you haven't got a copy yet you can order it here.
Maltesers Fudge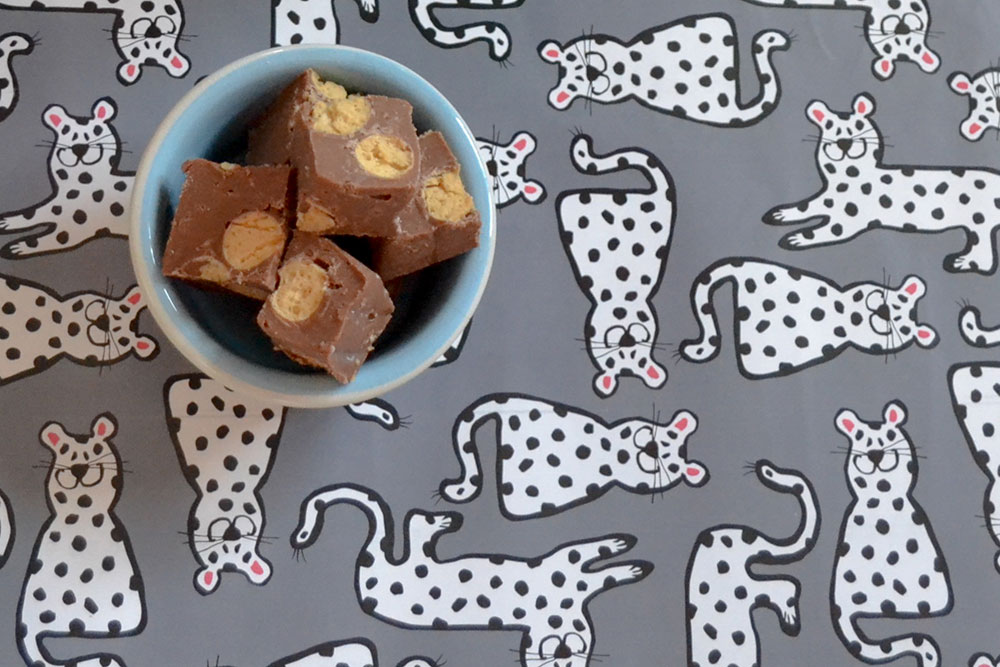 I found out that Maltesers are donating £5 to Comic Relief for every Maltesers bake posted on social media and lets face it I didn't need much persuading to get baking with these delicious treats! I often bake with the girls as I love that with baking you have the double thing of doing an activity and then having a tasty treat at the end of it! They love it and so after a quick googling I came across this really simple 3 ingredients maltesers fudge here. It was so comepletely delicious! Smooth and and light and crunchy it lasted all of about 5 minutes in this house!
Tulips Season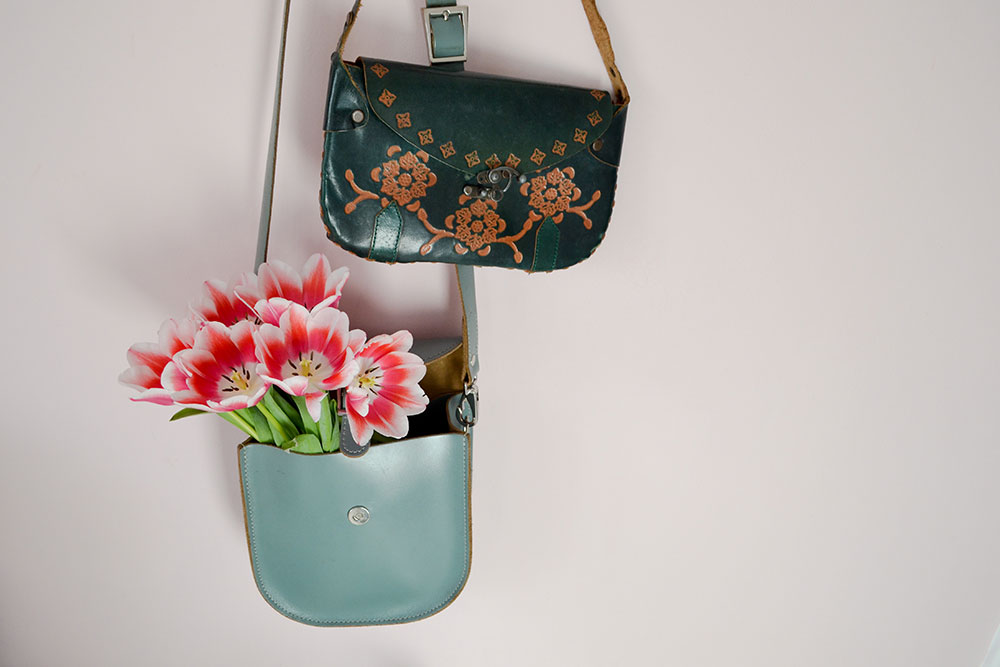 How much prettier is instagram now that tulip season is here? I love how inexpensive, colourful and cheery they are, and I kind of think they should be a weekly staple for the rest of the season...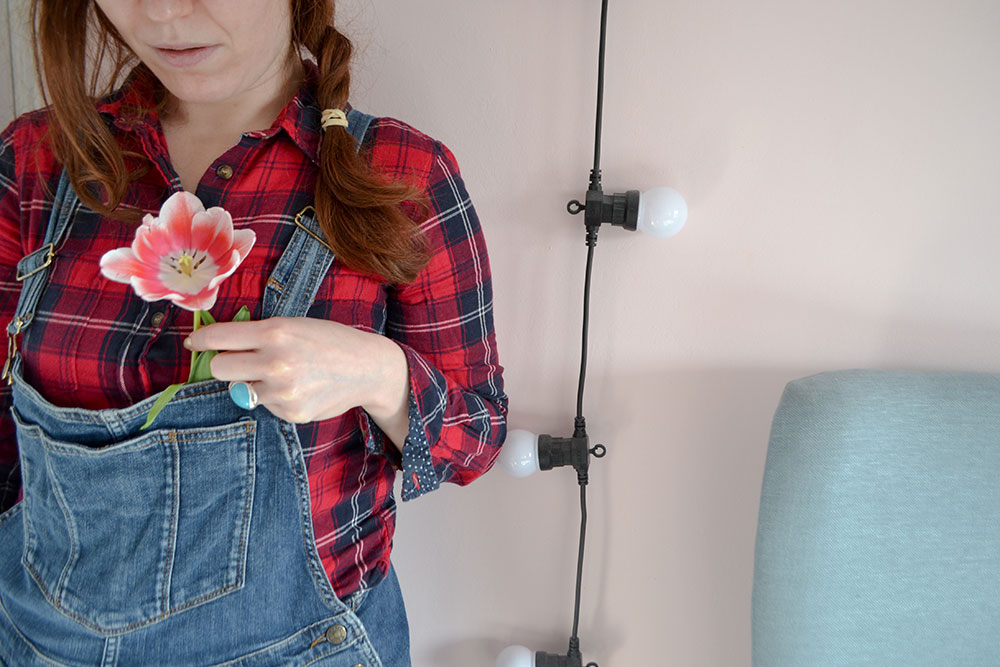 Helping my sister Alie choose Wedding dresses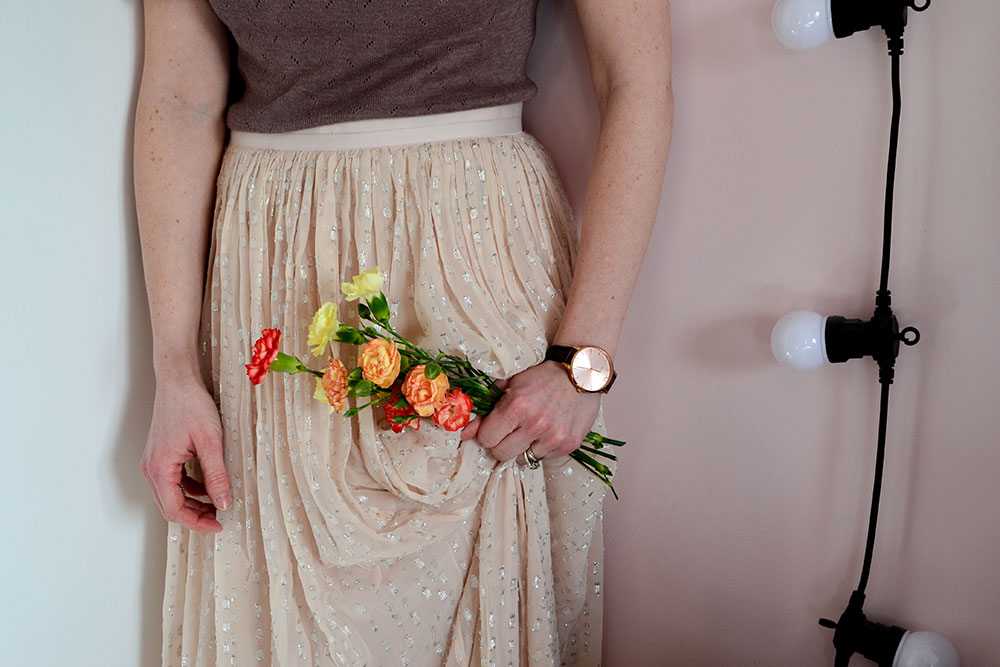 This has been so much fun. We came across the most beautiful brand Needle and Thread, and their dresses are the just the stuff of dreams! I couldn't resist trying on this amazing skirt of dreams, and if I ever had anywhere fancy to go to I would seriously consider getting it (I'm just not sure the school run would warrant it!). We're also going to the A Most Curious Wedding Fair this month which I'm really excited about. It's so lovely helping with all the wedding prep, I getting to do all the fun stuff without the stressy bits! I'm going to be making the wedding cake, so expect to see lots of cake inspired posts coming soon.
Valentine's Day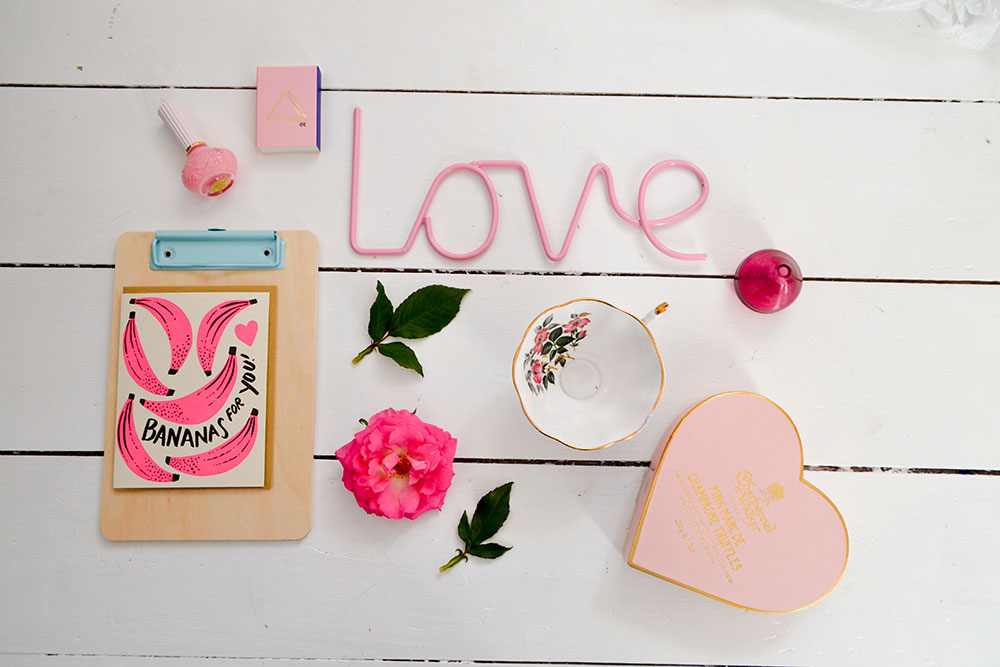 I know it's really uncool to like Valentine's Day but I'm a total sucker for it! We don't do anything particularly special for it, but the girls and I made white clay and paper heart garlands, and we had heart shaped pancakes and biscuits so all in all I'd say a pretty good day! I also bought this Love sign from Flying tiger which I adore.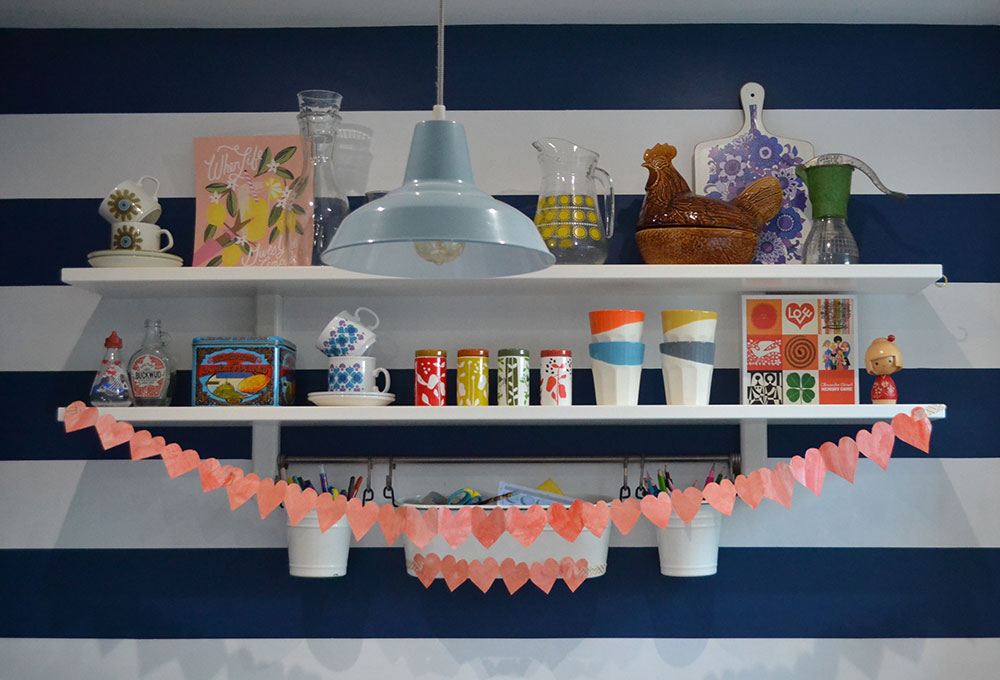 Coffee Stops and general family time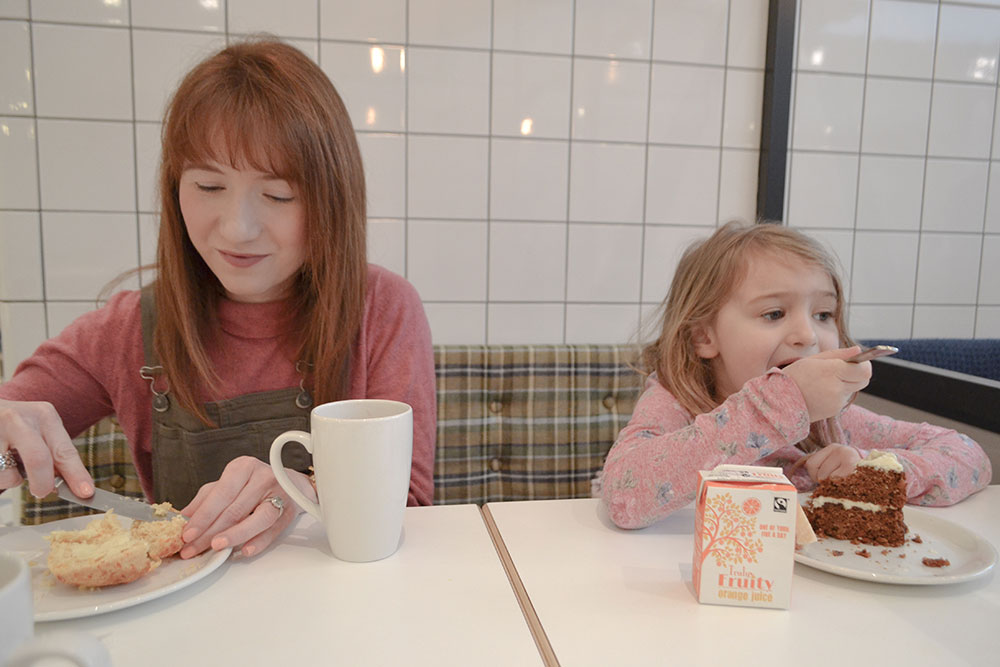 Having been couped up for almost 3 weeks with the girls being ill, any small moments out where truly savoured. I am loving the new Bond Street area in Chelmsford, I have a heart for indie shops but at the same time I do enjoy shopping in the bigger chains too. I'm hoping that the pull of the bigger stores in bond street will mean that they'll be more traffic and a wider audience for independants to open up to in the future. This pic is from John Lewis - the cafe is so nice and I love the square grid tiles against the tweedy furniture - the cakes were delicious too!
And that was about it. At times it felt like the longest month, but looking back on it had some of the lovliest moments. I hope you had a good one too. x
SaveSave
SaveSave
SaveSave
---