I was lucky enough to get an invite to the Green Open House on Friday - an event run by the Joy of Plants, showcasing in a real London house the three houseplant trends for 2015, Eco Luxe, Unexpected Wild and Happy Life. You may remember that it was a beautiful day on Friday, and as I usually work from home it was an extra special treat to get to go out for the day (and child free!).
And so coffee cup in hand, I found my way to north London to find a beautiful house bedecked with houseplant trends. I was so excited and it didn't dissappoint - I wish I'd taken a photo, but what I was greeted with was a beautiful old house with floral plants on each step to the door, such a happy entrance! This is one thing I'll definitely be recreating - seeing plants outside a home is so welcoming.
This is quite an image heavy post I'm afraid - there was just so much I needed to share! Eco luxe was the first trend on show. Simple luxury, I adored this look - lots of glass, copper and toned down greenery. Pure elegance, I loved the calm and tranquil feel to this look, soft glossy, and environmentally conscious materials with glamorous results. I can just imagine having a wonderful summer dinner party in here, it's so sophisticated - and yet the greens make the look wonderfully natural and fresh at the same time.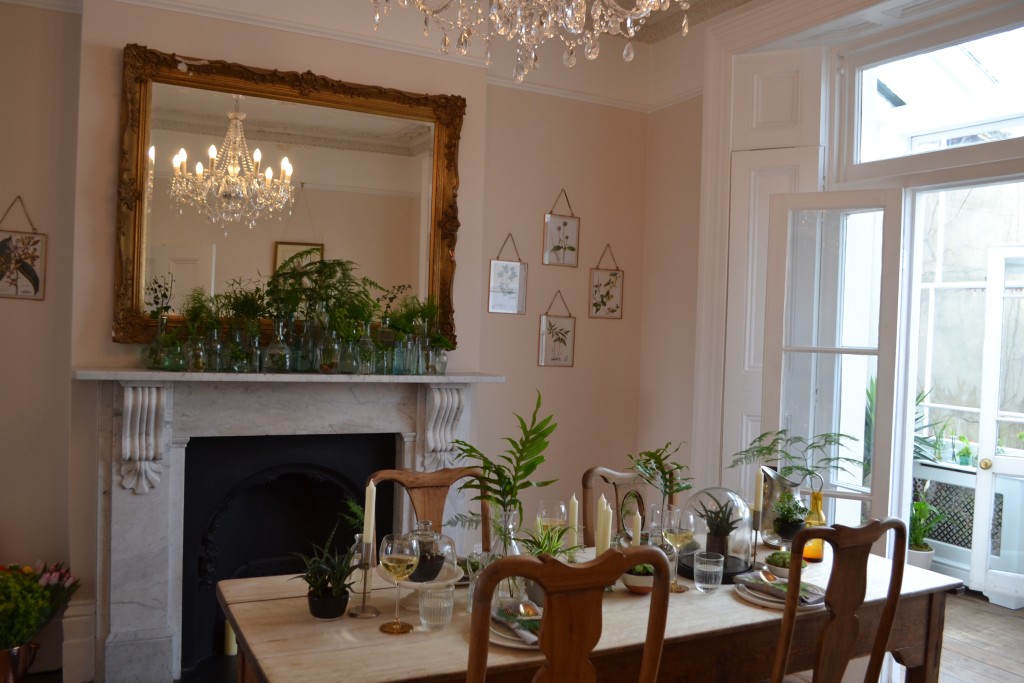 I just love all these mismatched bottles on the mantle piece with the wild greens, such an easy look to replicate with old beautiful drinks bottles and charity shop finds.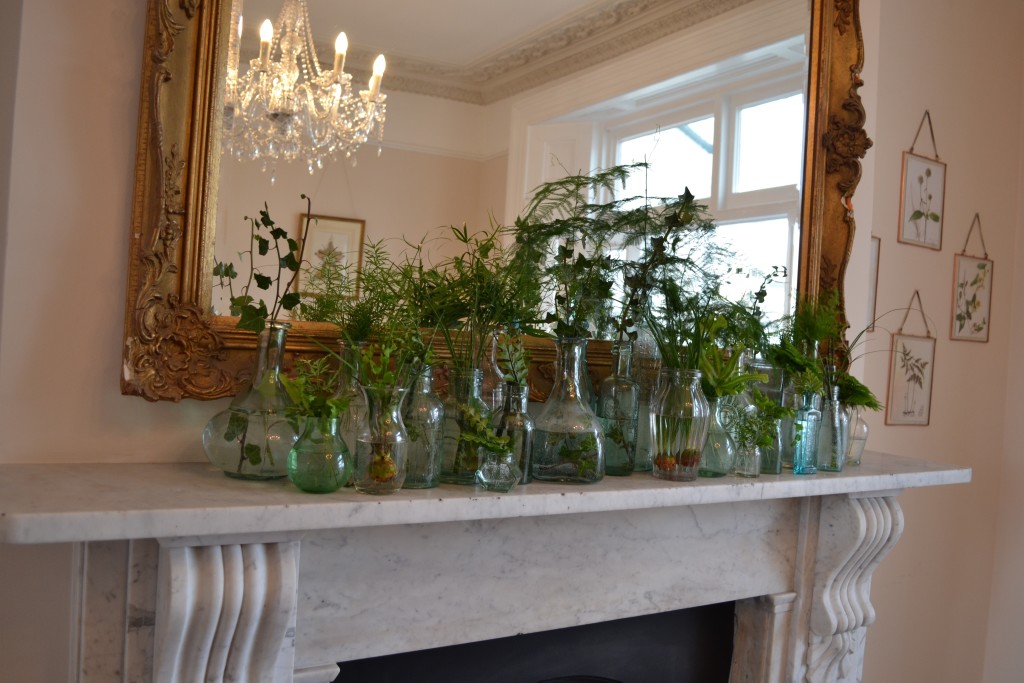 I'm going to do a separate post on some of the things I created at the event and recreating them at home, but here is a picture of the lovely textile designer Klara showing me how to paint flowerpots with gold leaf with geometric motifs. Such a simple and effective technique, I'm totally addicted! Also check out Klara's dress - so gorgeous!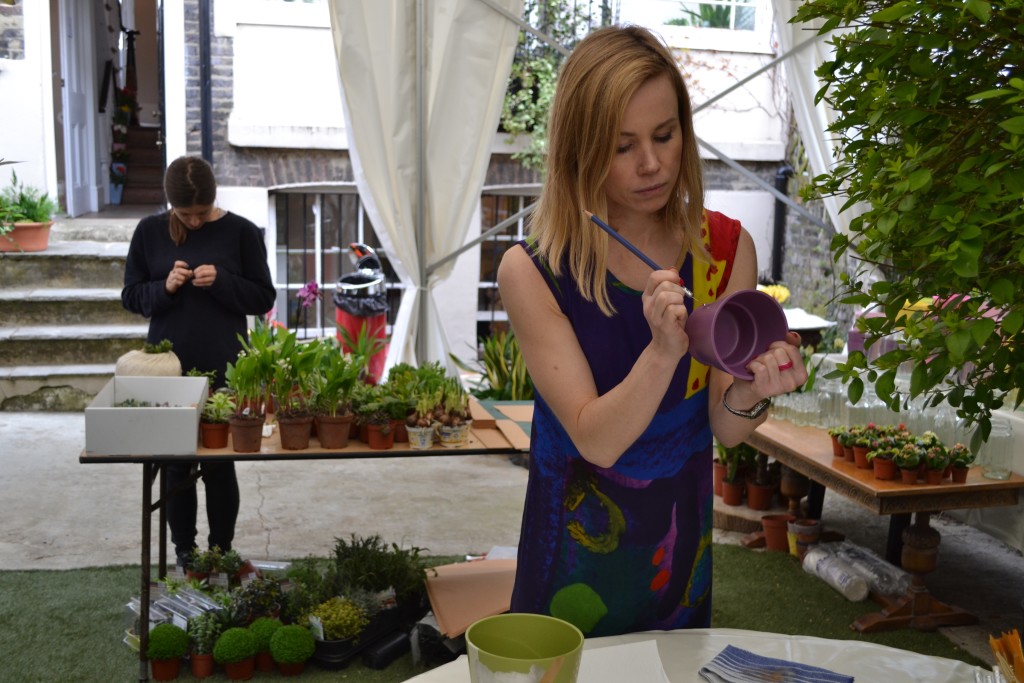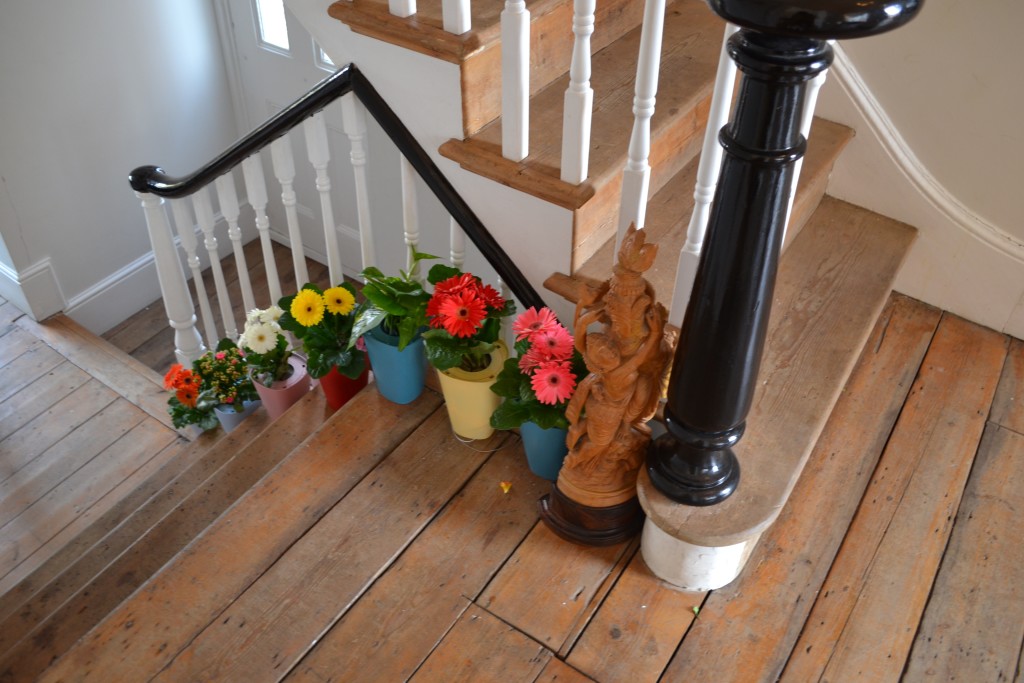 How incredible is this bathroom? This is part of the Unexpected Wild trend, wonderfully gutsy and wild and also, to my mind, incredibly romantic. I loved this look, handmade objects alongside many many houseplants showing a direct connection with nature and with the using of old and new vessels, a sense of homely nostalgia.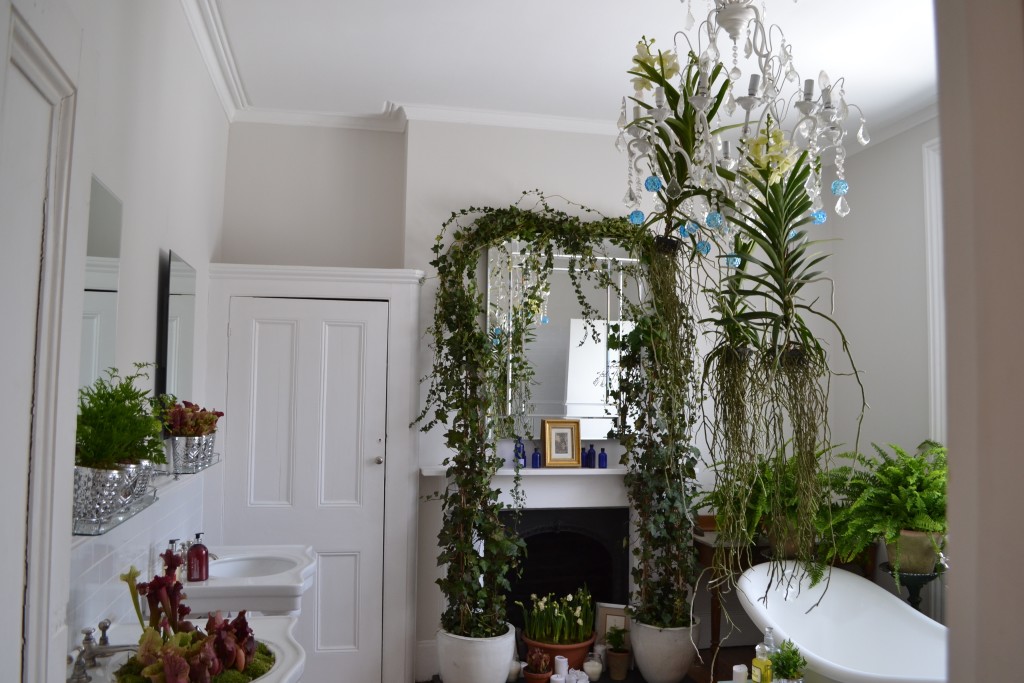 I hadn't really thought about using ferns in the house before, but I love the ways in which it has been used in this house - the soft ethereal quality it has is so beautiful. And how amazing is that fern print dress, I really need to track that down! On a side note I do think that hanging one beautiful dress or some item of clothing really does make a lovely statement in a room.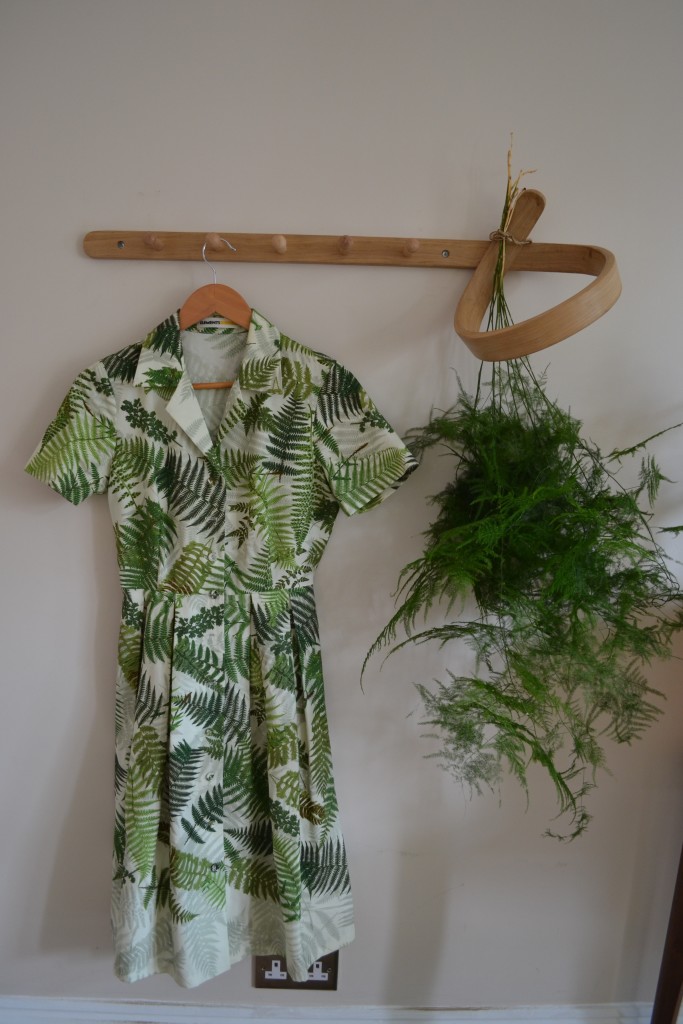 The layering of fresh greens and geometric containers here is so lush and inviting here.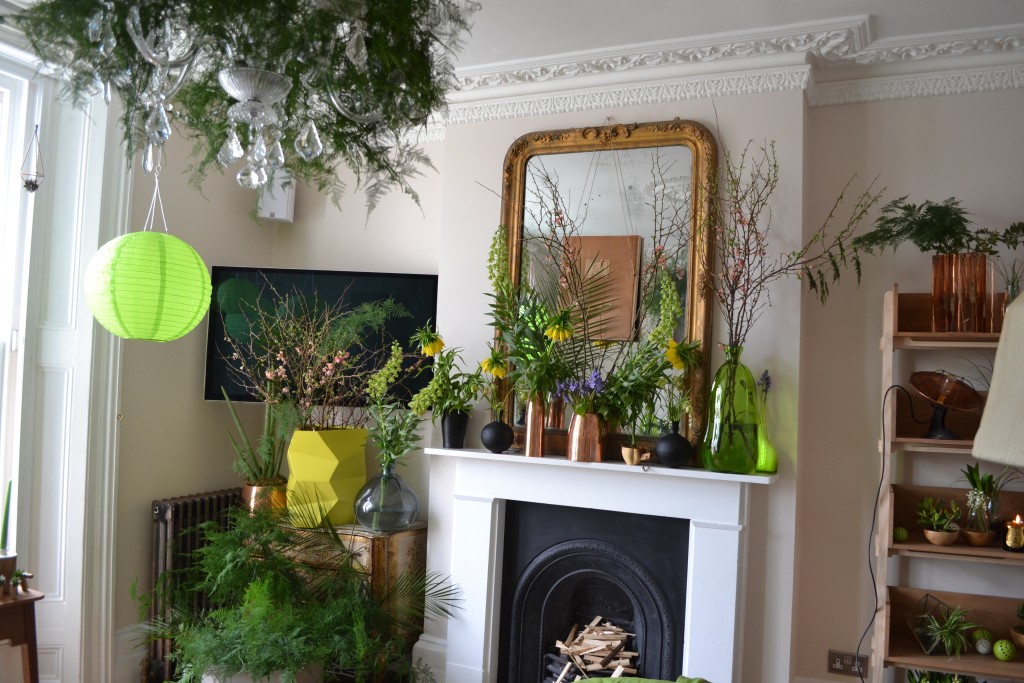 You might have seen this picture on my instagram, but this little display of succulents in corks was one of my favourite things, just so much fun and I think would be a fairly simple thing to do - I'll keep you posted on my attempts!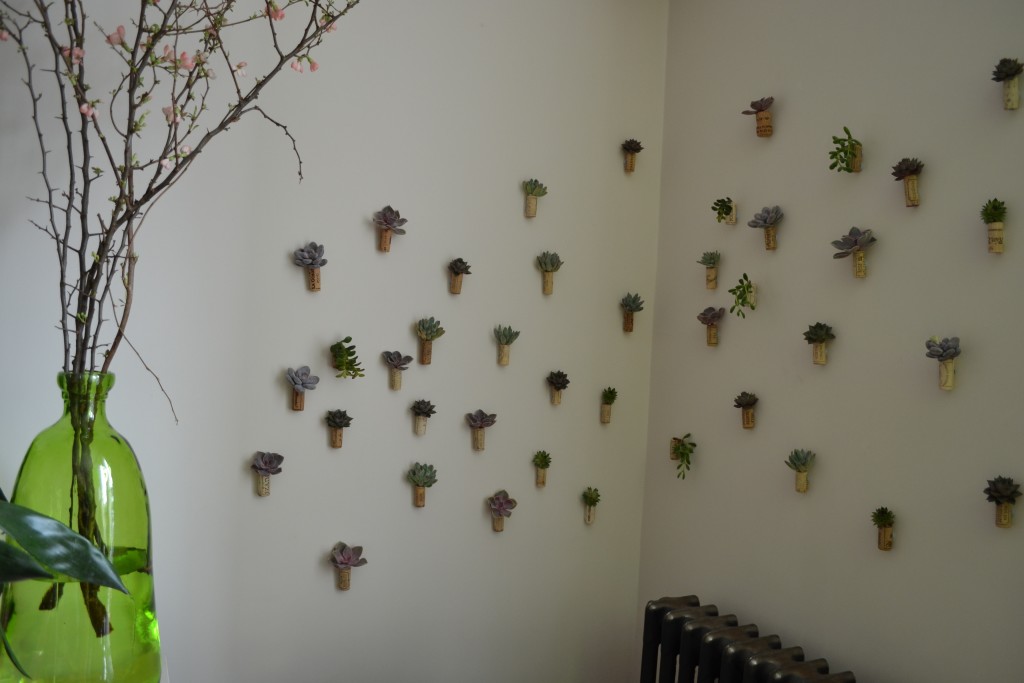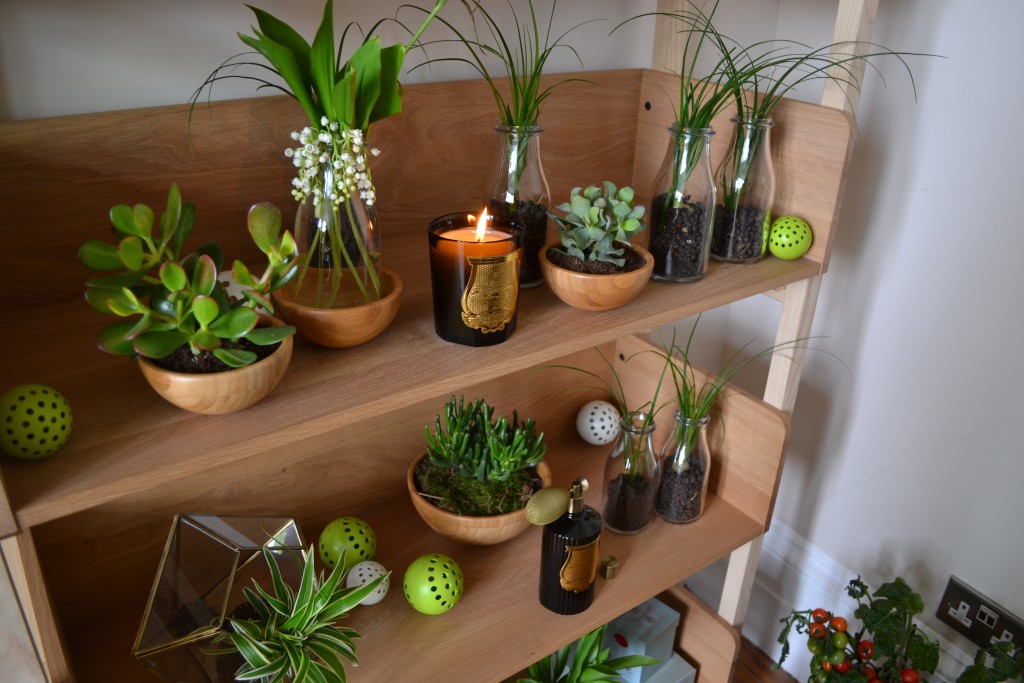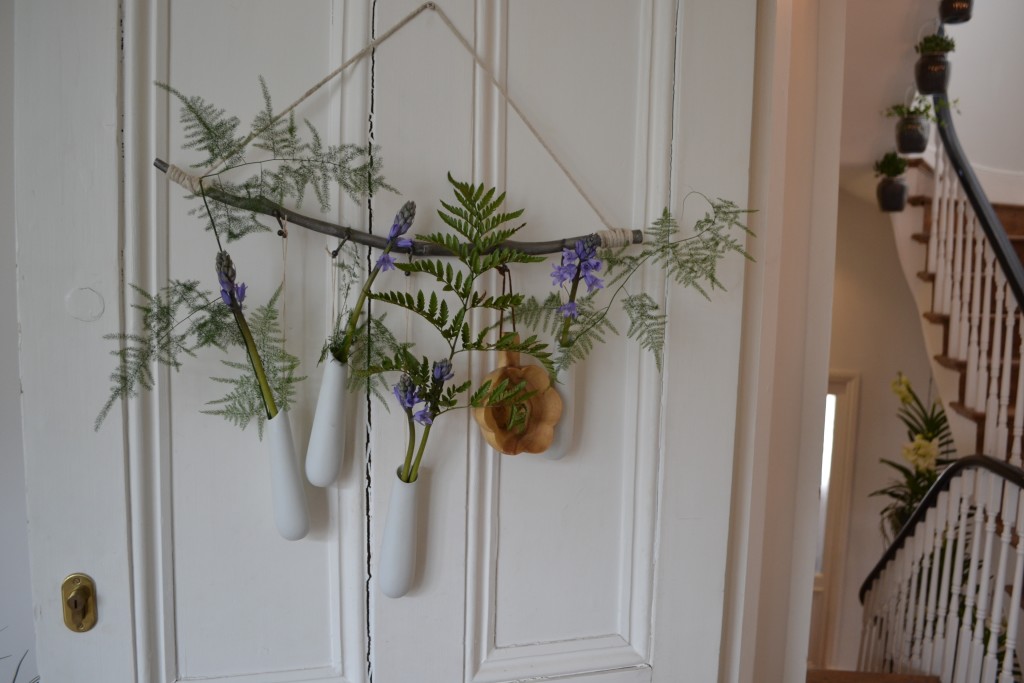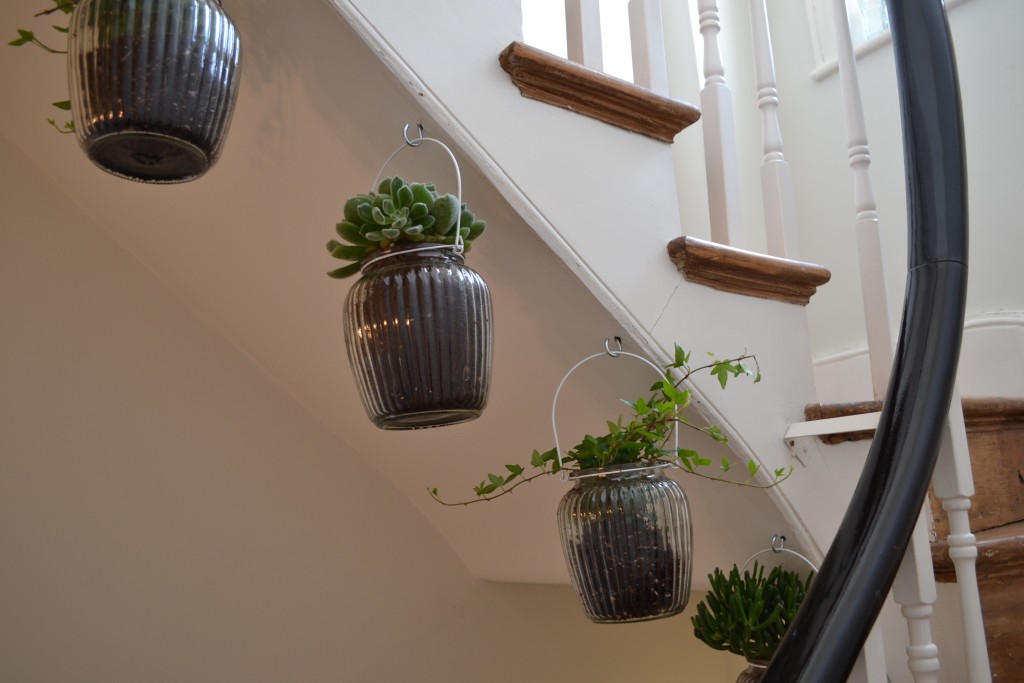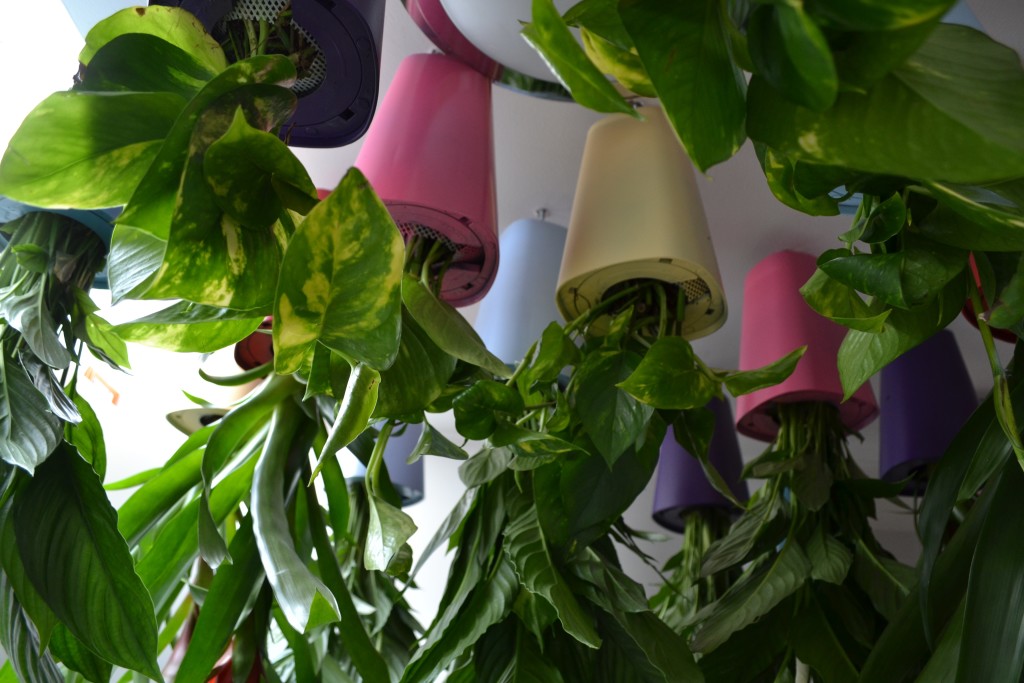 This was another of my favourites the childrens room - I don't think I've ever really seen any plants displayed in childrens rooms before, which kind of seems silly given how much I know my children adore anything green. Love these lego heads!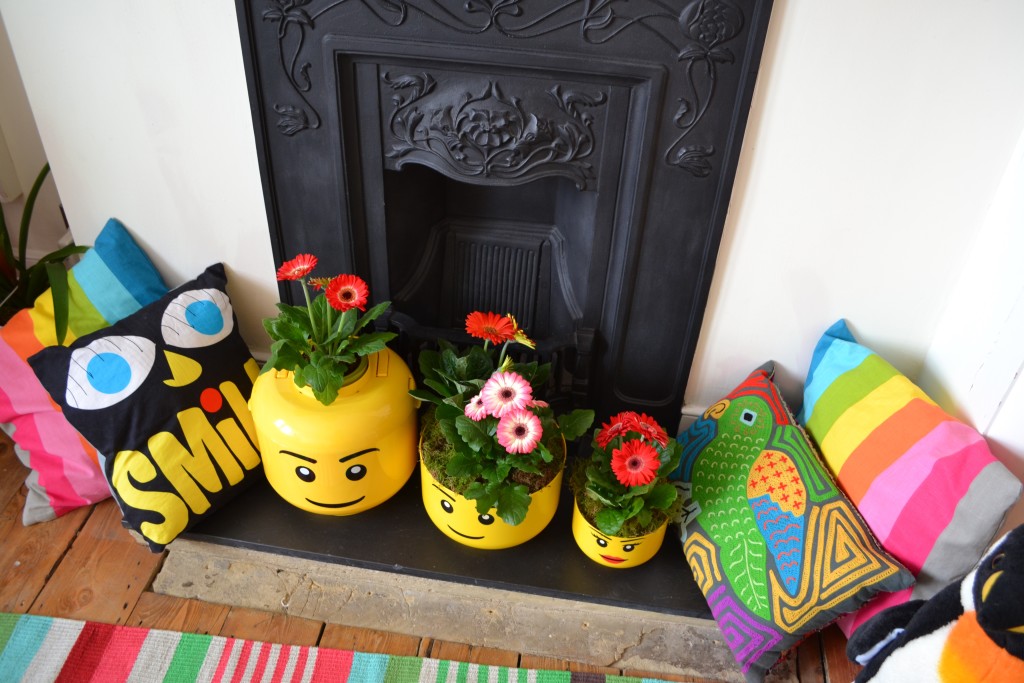 And these little giraffe exploring in the terrarium is fantastic! The terrarium is from
the Urban Botanist
, I'm going to do a separate post about these, but suffice to say I love them! And I got to make my own with the wonderful MD Lucy Serafi.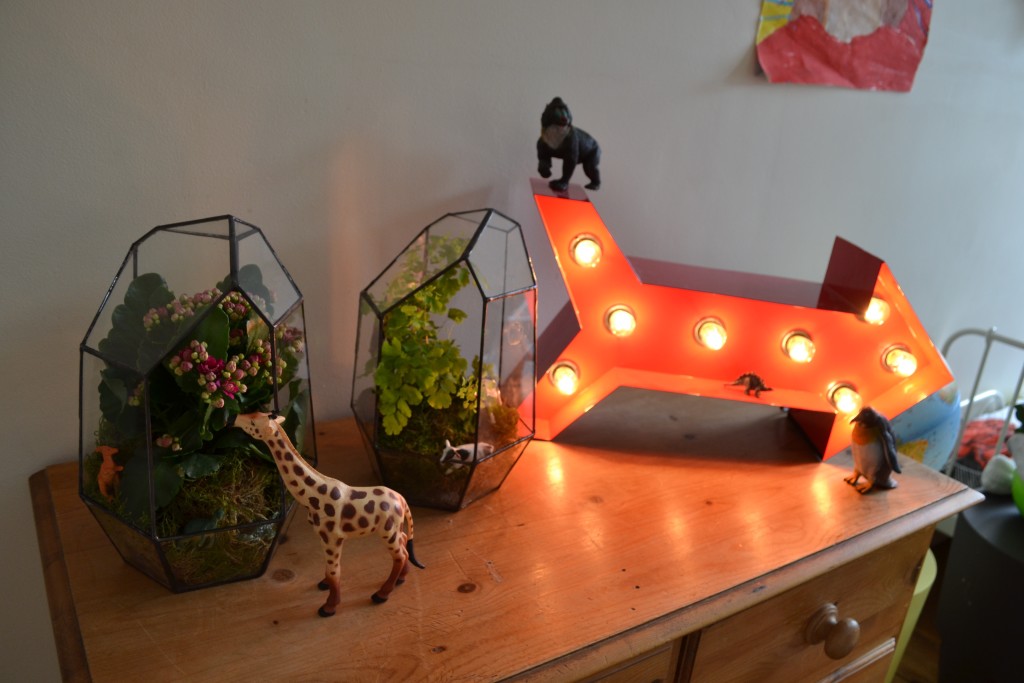 This was more of the Unexpected wild in a beautiful room styled by
Joanne Thornhill
, who also taught me how to macrame! Again, more to come, and a crafty plant style post...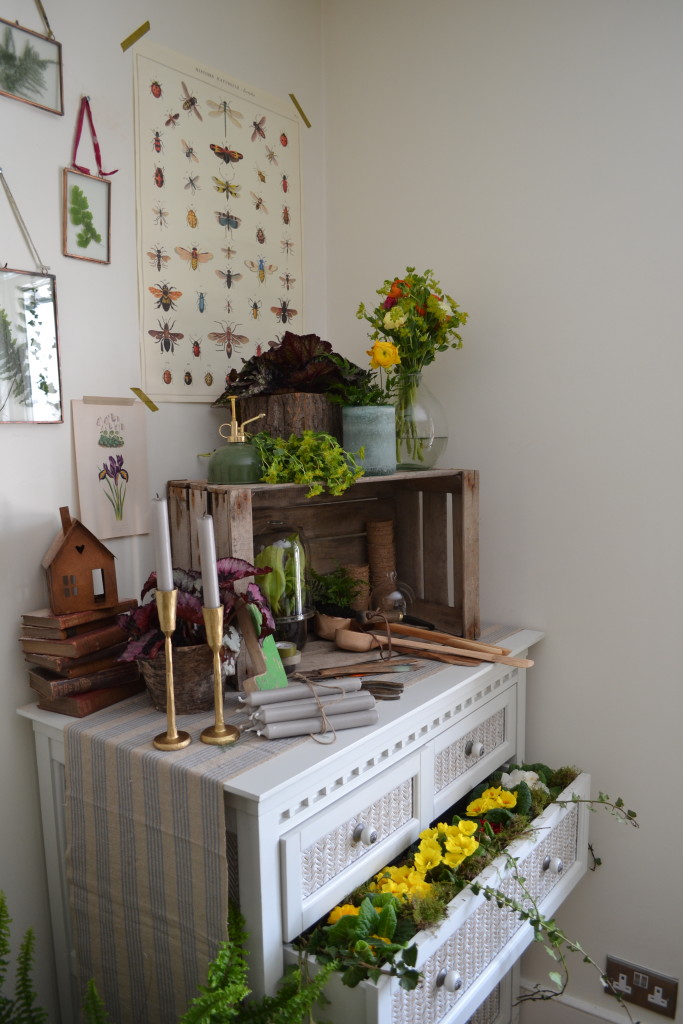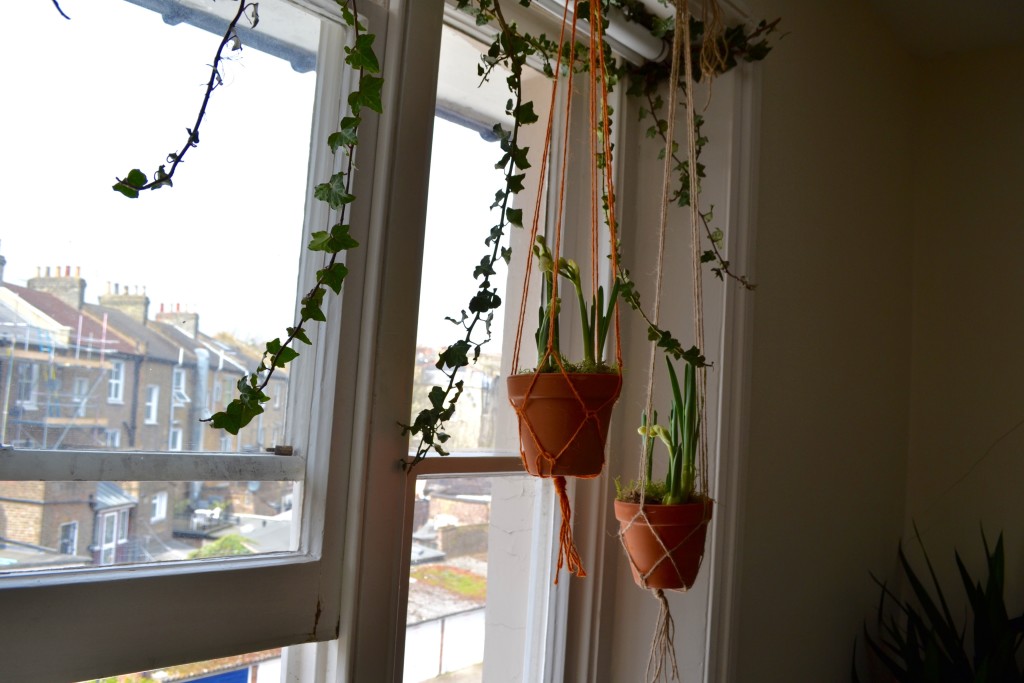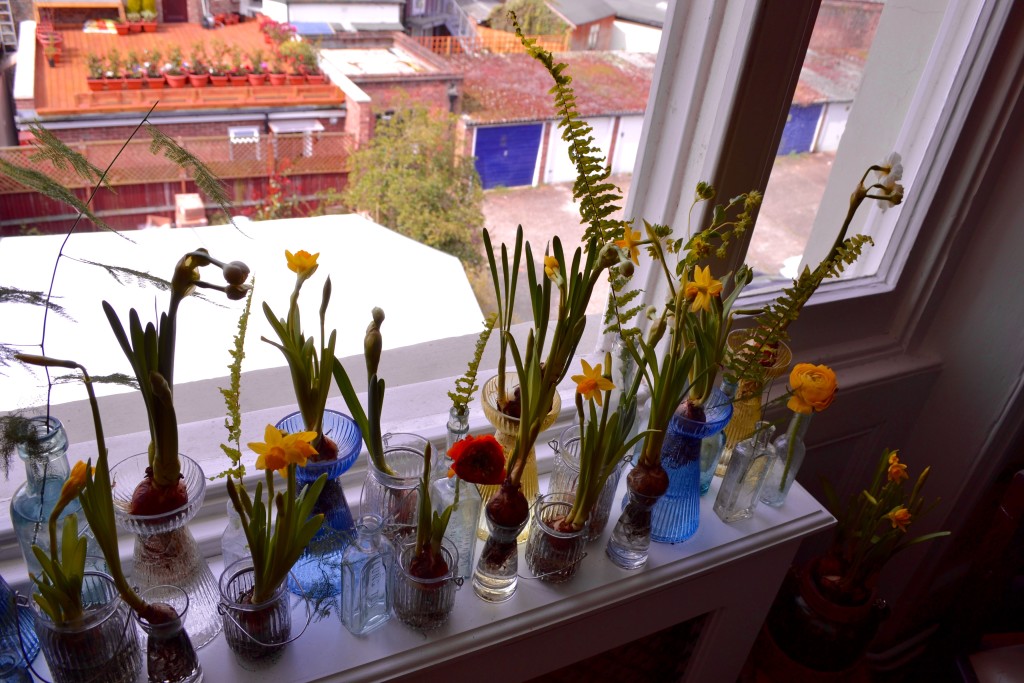 My husband and I are big colour lovers for our interiors and so its no surprise that the Happy Life trend here is probably closest to my personal style, I adore the colour pops and the lovely splashes of flowers and greens. This would work perfectly in a family home and the kitchen is such a wonderful place for colour and plants.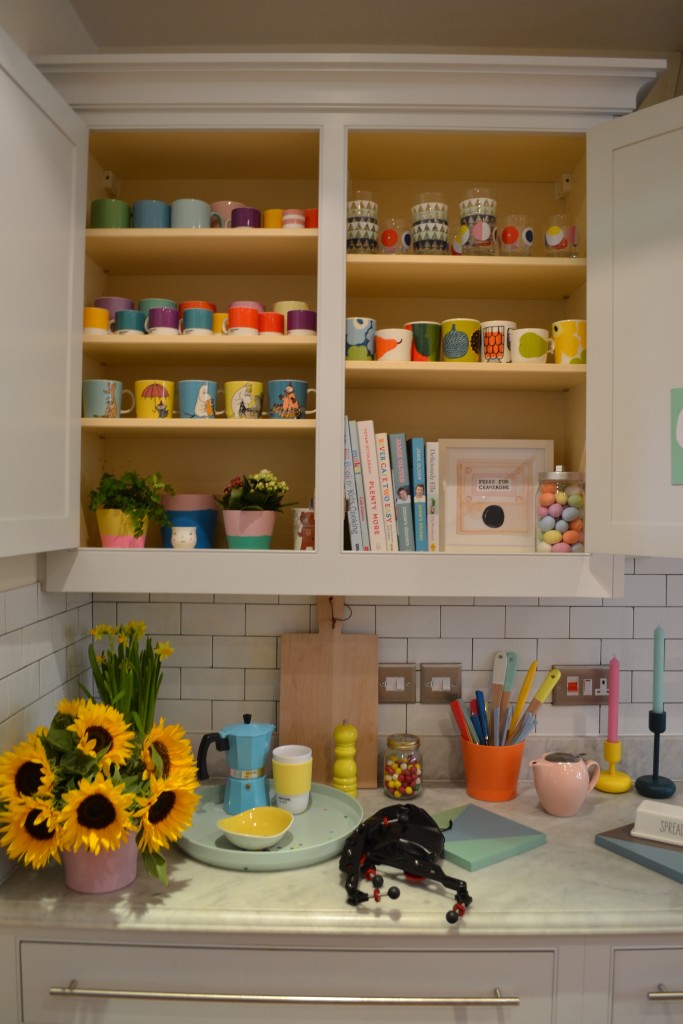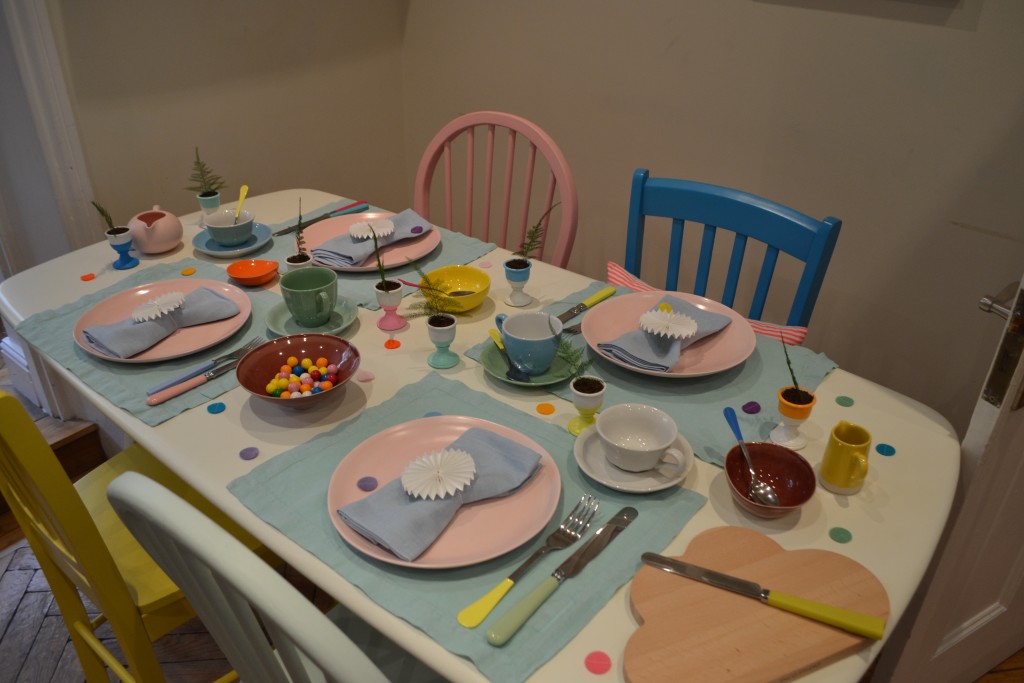 And another favourite! The living wall - this was just awe - inspiring, such a bold, strong look. The creator and garden designer Ian Drummond taught me how to make a mini succulent version to hang on the wall. I love the idea of a living thing being on the wall, and that it would change slightly also throughout the seasons. I had such a fantastic day, with a head full of ideas and lots of new projects to fulfil, I'm going to be inspired by the #opengreenhouse for a long time. Many thanks to The Joy of Plants for inviting me. Check out the hashtag for other photos from the event.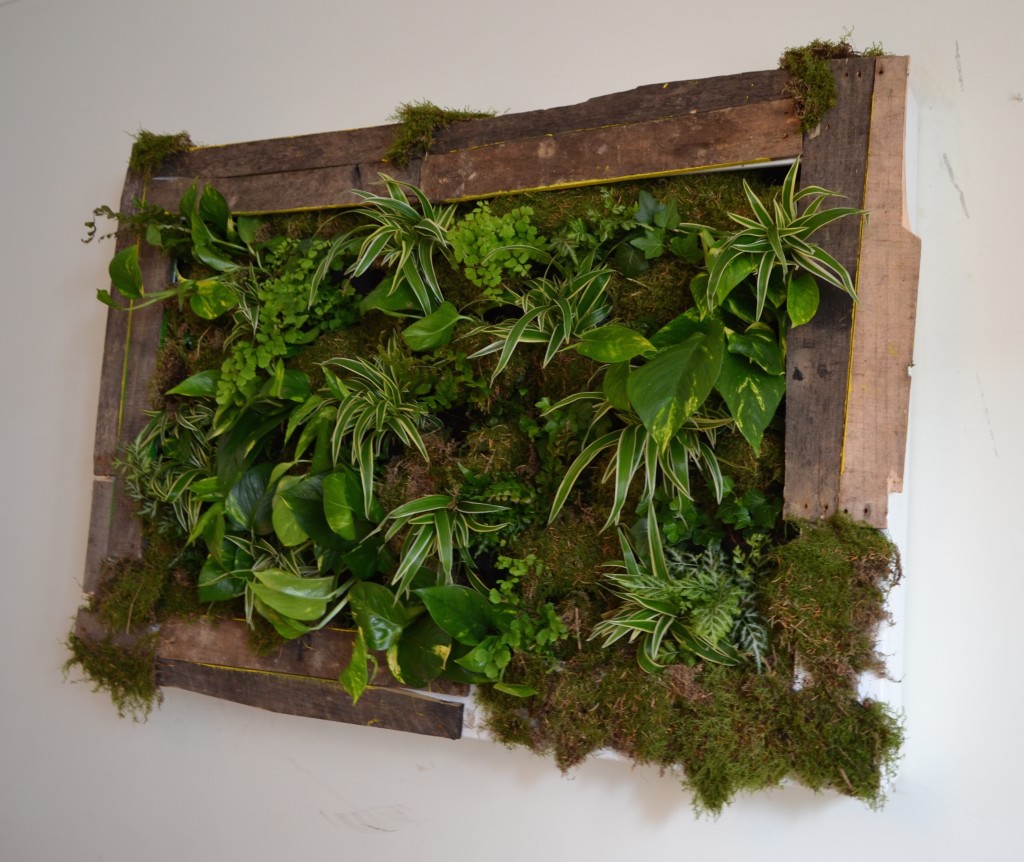 Posted under –
Tags – No tags where found for this post
---