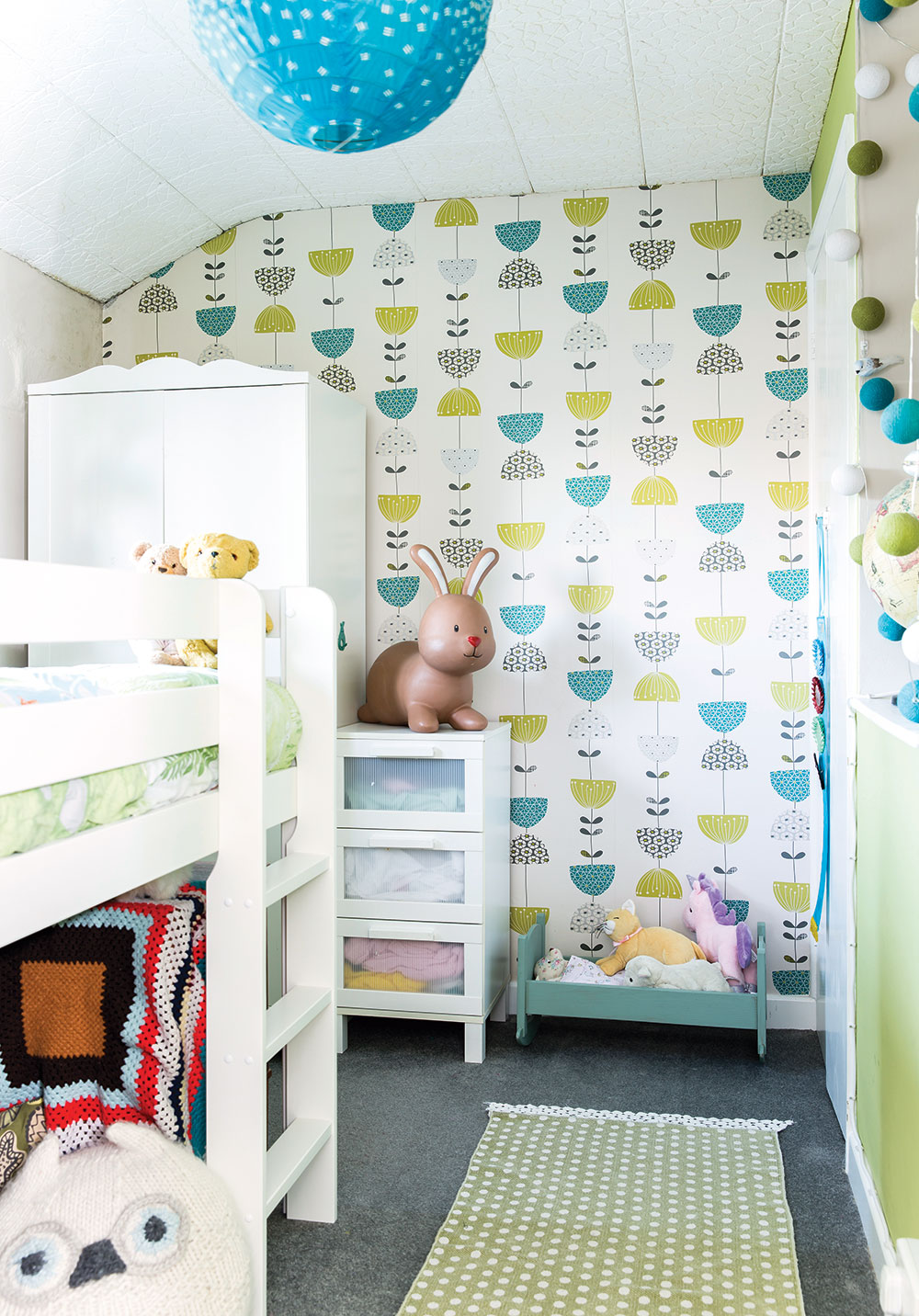 We decorated Delilah's room just before CeCe was born, she wasn't yet even 2 so while I had her personality and needs in mind, her own input was fairly minimal. So going from a 2 year old to a 5 is always going to mean lots of changes, but I don't think we really need to do the whole room just yet, so for now we've made simple changes, that hopefully give her more independance and inject a little more of her personality.
When decorating I chose blue and green as the colour scheme, I wanted it gender neutral, I don't have a problem with pink but I didn't want her shoehorned into thinking that was the only colour she would see (we have so much pink tat!), and I think it has worked well, but I don't think its something that she would choose now. So I'm trying to inject other colours to make it a more of a rainbow coloured mix of hues which suits her personality.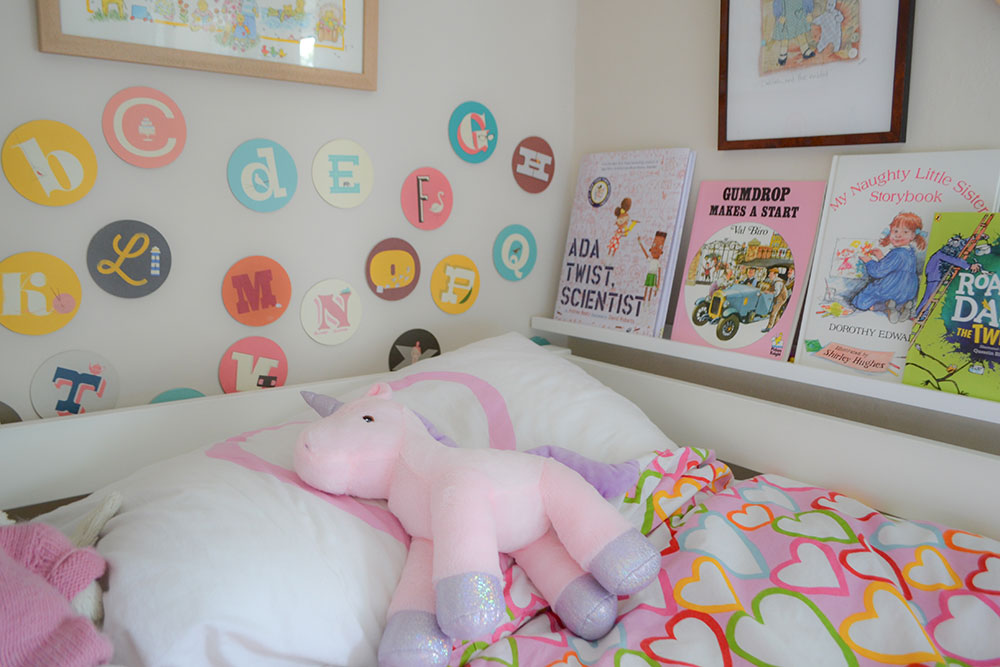 I'll get on to her bed in a moment, but here is a little shelf (the classic Ikea ribba shelves), that we put just by her bed to house her favourite books. I like that she can change them around as she wishes, giving her that ownership over her space as well as providing beautiful illustrative eye candy!
When we initially decorated Delilah was still in her cotbed, which she eventually outgrew and so we opted for a cabin style bed. This one is from La Redoute and I've been so pleased with it. It's the perfect option for a small room - having it that much bigger than a cotbed and on the ground would have swamped her room, but having a high bed meant that she gains lots of space underneath. Although there isn't space for a proper desk a little mini one underneath means than she can create on her own if she wants to and gives her a little privacy if she wants. Ian made this from an old shelf salvaged from my parents old house and a couple of storage drawers for paper and pens. The little light is from Habitat and the clipboards and hanging basket are from flying tiger - I love seeing what little masterpieces she clips to the boards!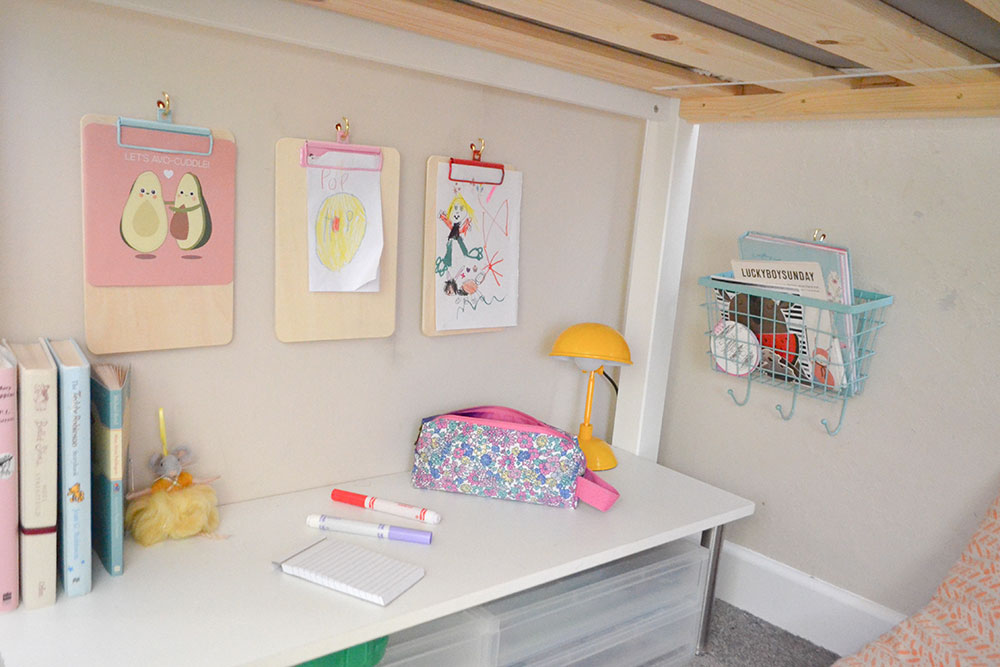 Piles of blankets and old cushions complete the nest like feel and she loves taking her friends under there to read stories and play games! Often little teddybear tea parties and various ponies and dolls seem to congregate there. It also works well for stashing the big ungly boxes of toys out the way, creating more valuable floorspace.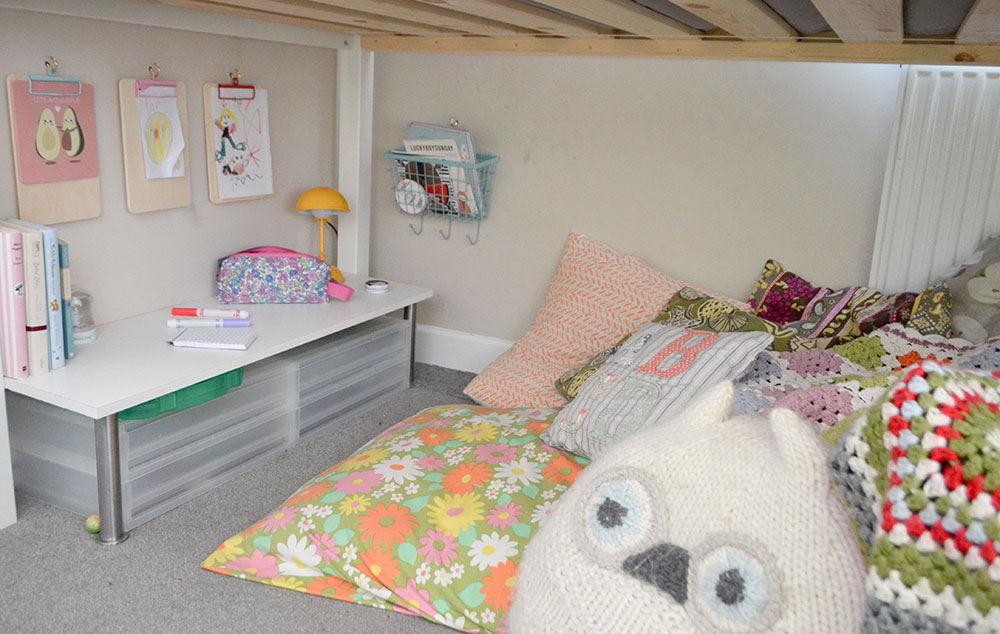 I'm already thinking that this would work well for CeCe's room eventually and it really has given Delilah so much more space to play. Childrens rooms are very tricky to design I think as they change so quickly, so I think making sure things can be changed up easily is really helpful. Please send me any links with your kids room interiors, I'd love to see!
---
You might also like...