I always have the urge to declutter post Christmas, whether I actually do it or not is another thing, but this year I'm determined to sort out our things. Our house is pretty small and especially with our 2 little girls it sometimes feels as though the house is groaning under the weights of all our things. I've heard such good things about the Marie Kondo book - The Life-Changing Magic of Tidying, it's next on my reading list and I can't wait to start implementing her techniques. I have all my craft and work materials all rammed under my bed and even thinking about it makes me feel anxious, so I know something has to be done.I really do think that when somewhere is tidier it does make you so much calmer, and generally makes your life so much easier. That said, I'm my own worst enemy, I do hoard things and I just love to have all my 'things' all around me. I guess in our home we have an arty type of look which kind of excuses many of my hoarding tendencies, but I do think that even for me I need to pair it back a little. I really don't need to buy every lovely vintage teacup in the charity shop, despite whatever I may tell myself!I was challenged by the Funnyhowflowersdothat.co.uk to declutter a space in my home and dress it with flowers – the 2016 Flower Edit flowers at the moment are Tulips (one of my favourites). I decided to opt to tidy a little alcove in my 4 year old daughters' room. As you can see its very very cluttered, I'm never going to be able to make it minimalist, as I want it to be hers and as jumbled, energetic and feisty and she is! But a little clarity is needed I think, as currently it's pretty much just another (!) dumping area and she can't really see what she needs to, or what she has. I love the idea of displaying a few flowers for her - I remember a while ago she asked if she could have some flowers in her room like I had downstairs, and so I found a tiny vase and gave her some of mine and she was so happy!Here's the before shot, a bit of a mess really. When we decorated Delilah's room we wanted it to be fun and colourful, but also calming and this little area as it is doesn't reflect that.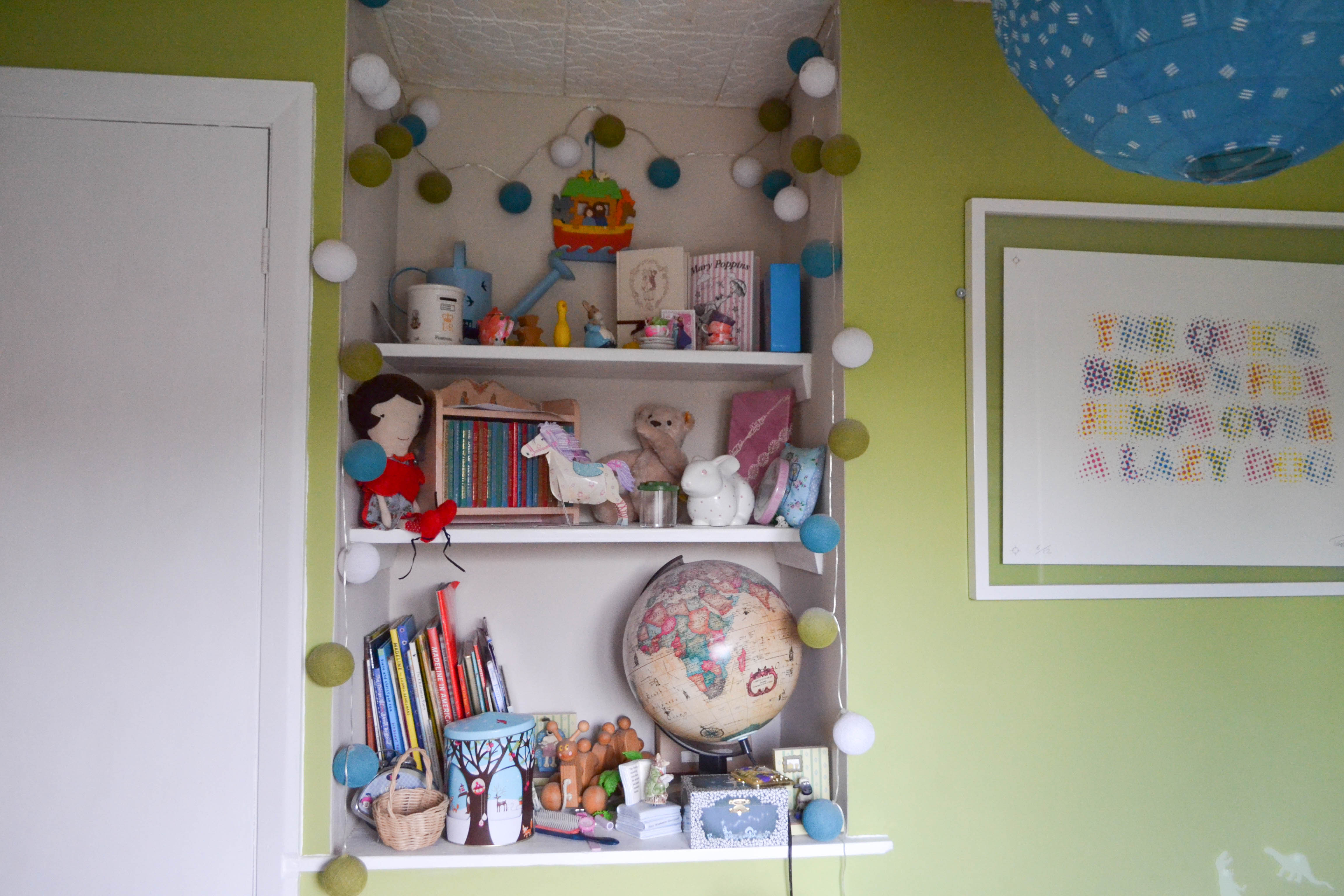 So I pretty much took all of the bits out and started again. Putting things in tins and removing some of the not needed bits (half eaten biscuit anyone?!). Creating tiny little arrangements accented by little splashes of colour provided by the lovely tulips.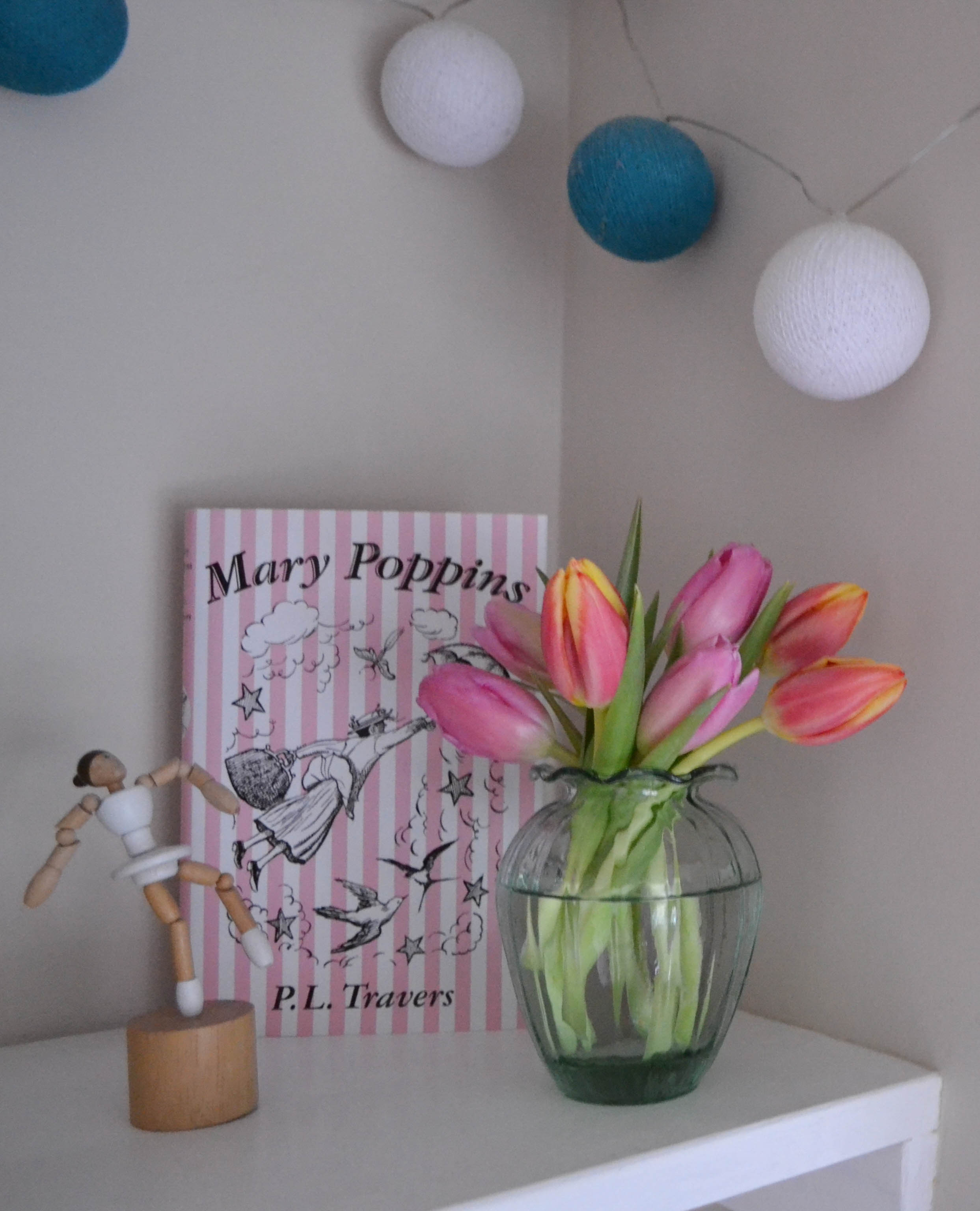 I love Tulips. So bright and happy. We have some parrot tulips with beautiful frilly edges that come up in the springtime in our front garden and they are just the loveliest thing to come home to. I bought 2 bunches from my local Morrisons for £1.80 each, which I think is such a great thing, to be able to buy such a gorgeous thing so cheaply. The rows of colourful bunches in the supermarket always make me smile. Apparently red tulips symbolise passionate love - so in some ways I think they'd make a really nice change from roses on Valentine's day - and also black tulips are supposed to mean 'I love you so much I will sacrifice everything for you!' so they're not to be bandied about lightly! I love the soft candy type colours of these pink and orange variety, they're perfectly fitting for this.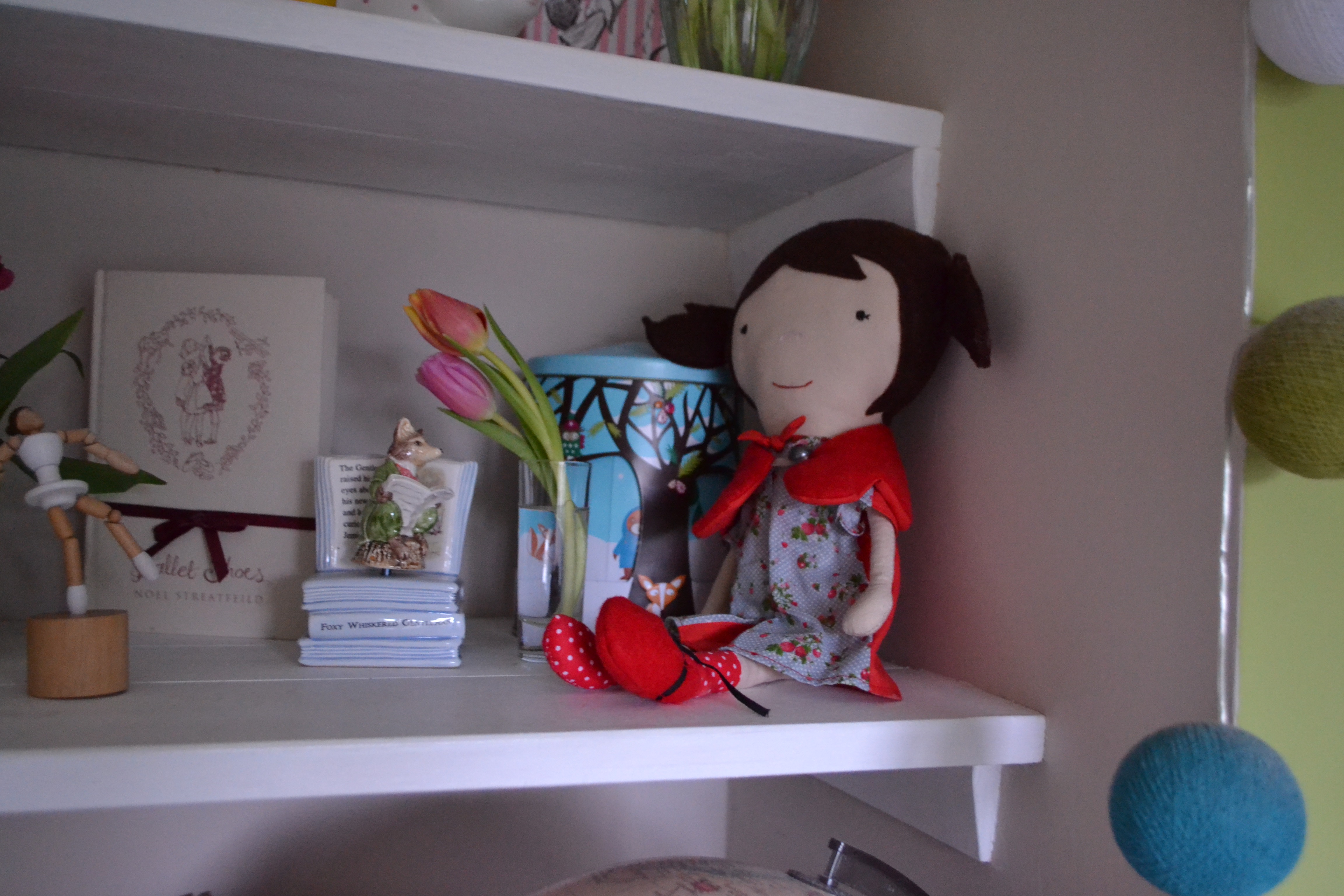 I could have easily dressed the space with more flowers but I felt had it had to be fairly practical in that, because it is a childs room things will be moved and changed around very regularly.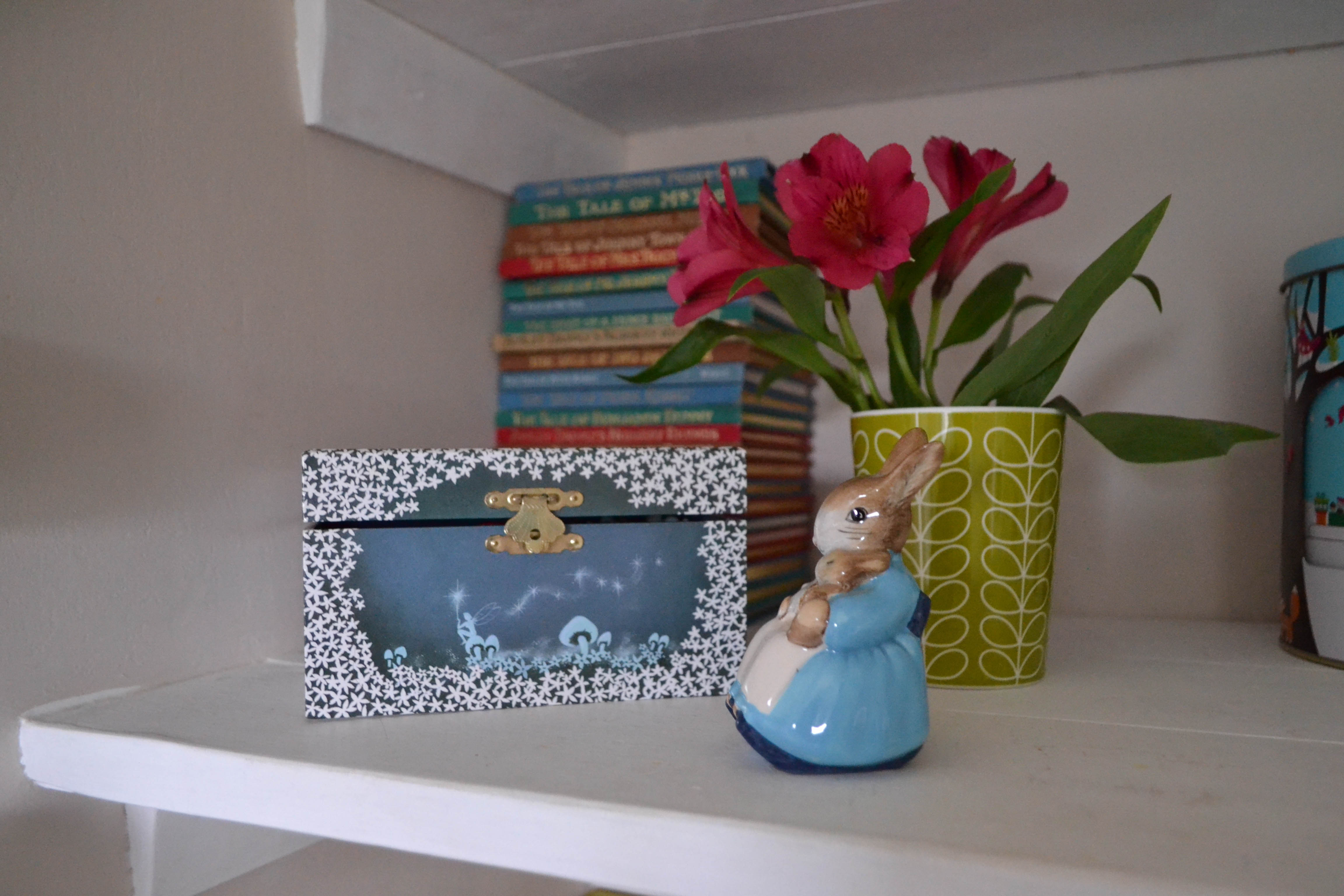 I did use glass containers as I know now that Delilah is old enough not to play around with them, but if you wanted you could use alternatives. I love this green Orla Kiely melamine beaker I used here - if I was displaying any flowers in my 2 year old's room I'd definitely do this type of thing as she hasn't quite mastered the art of gentle handling!
And here's the after: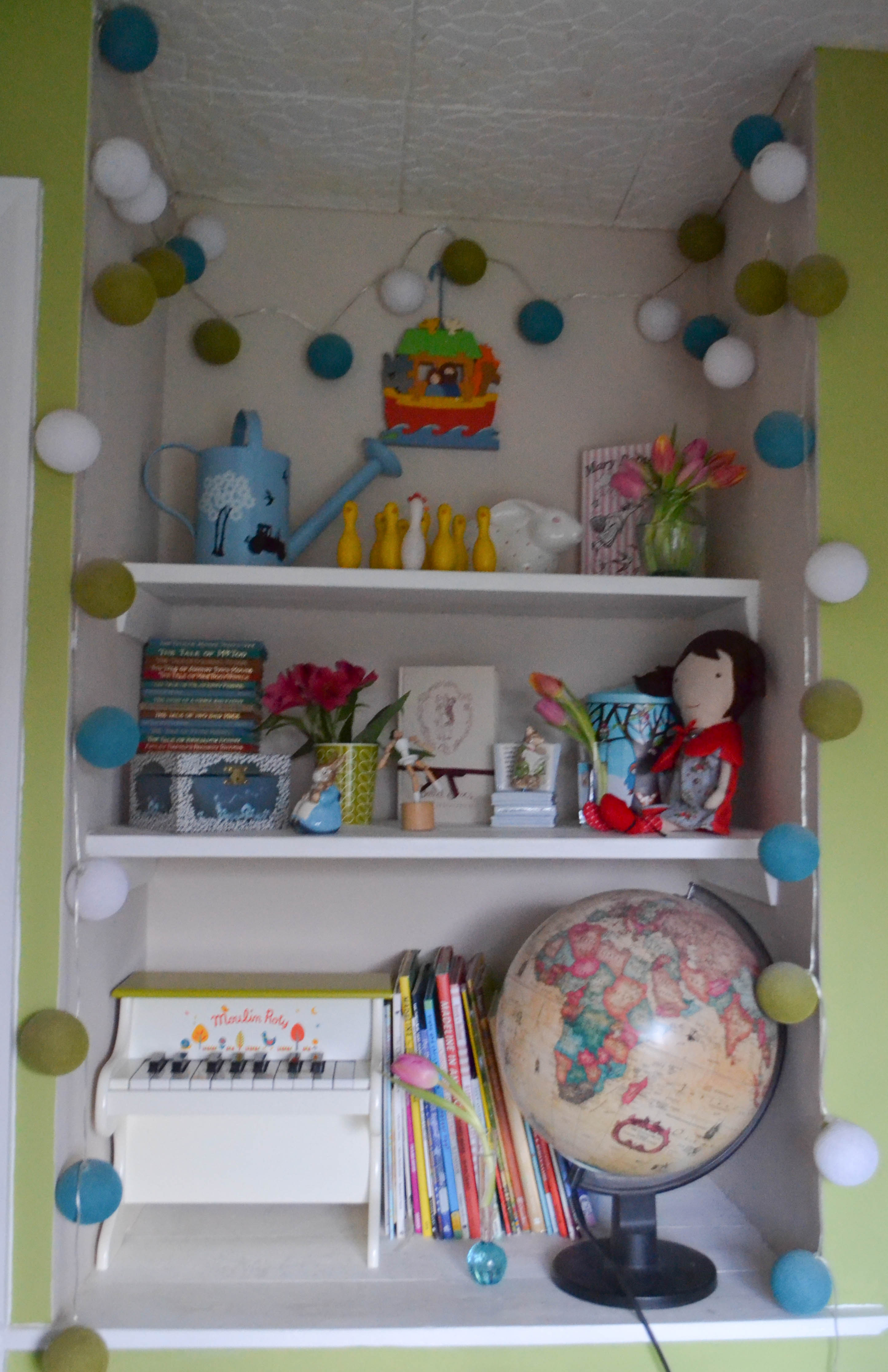 There's not a great deal of change, but it's a lot clearer and tidier and I think you can see the things she loves there, from the battered well read books to her snowflake laden jewellery box hosting all her gaudy gems!She absolutely loved it, and immediately made me bring in her little sister to see 'the beautiful flowers Mummy put in my room!' I am thinking that it would be nice to put in something a little more permanent, so I think perhaps some very hardy small ish house plants might be a good idea. I was reminded of the Green Open House I went to last year which had some amazing ideas for integrating plants in your home, and the kids room was by far my favourite, so watch this space for more plants to come!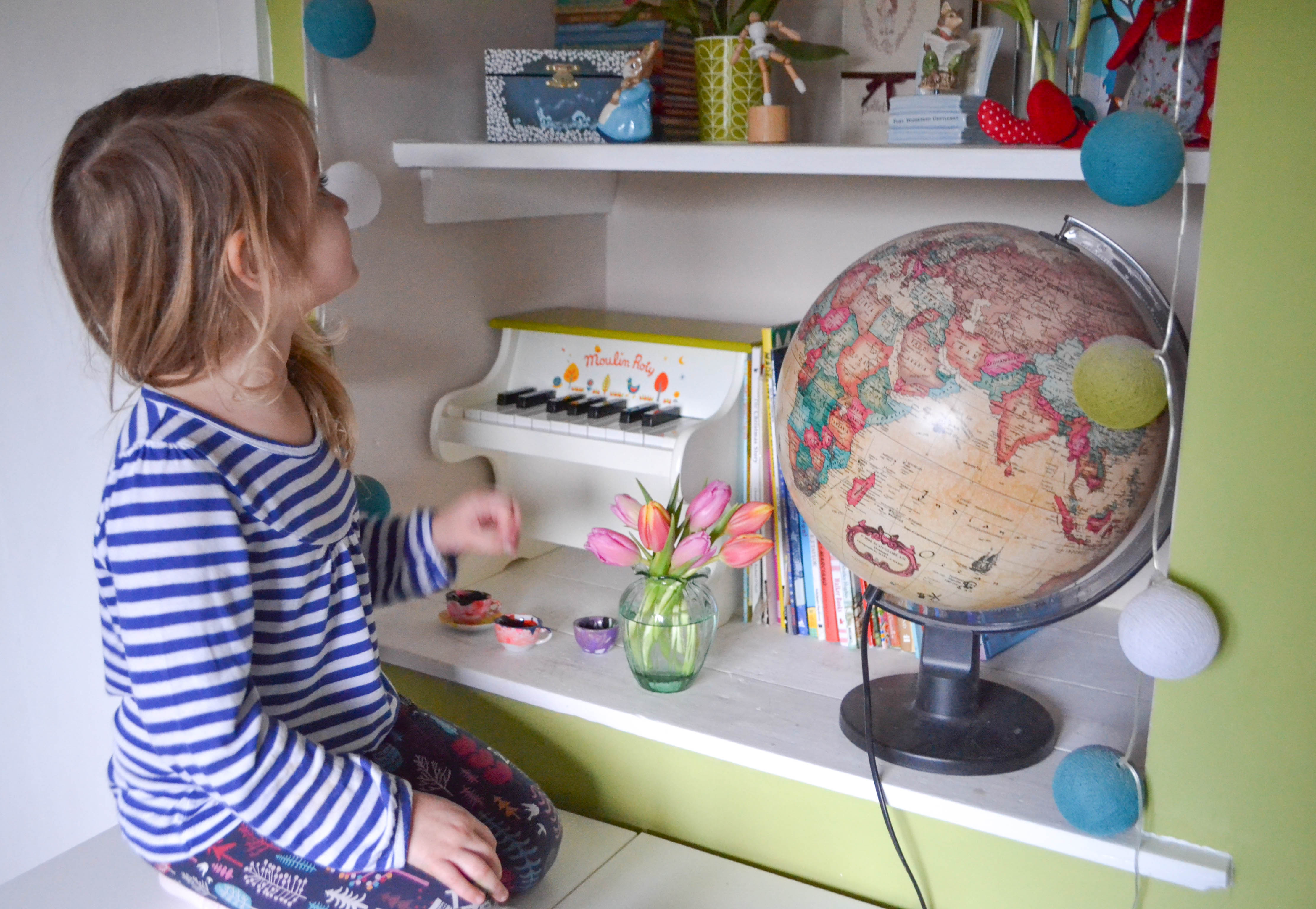 If you would like to look at more ideas for how to use flowers in your home and more about Tulips take a look at Funnyhowflowersdothat.co.uk an initiative from the Flower Council of Holland - there are some fantastic DIY's and home decor ideas to explore.This is a collaborative post.
---