Since my youngest daughter started preschool I now have a couple of hours a day to get some things done and so Alie and I decided we'd have one day a week where we'd practice styling things for her Wedding in October 2017. She'll be laying all the tables and decorations herself (along with my help!) and so the decor needs to be relatively simple as well as being thrifty, but also colourful, seasonal and as eclectic as the couple themselves. I did this for my own spring wedding in 2009, I absolutely loved doing it despite the stress, and I can't wait to do it with Alie using the delicious Autumn colours around at the moment.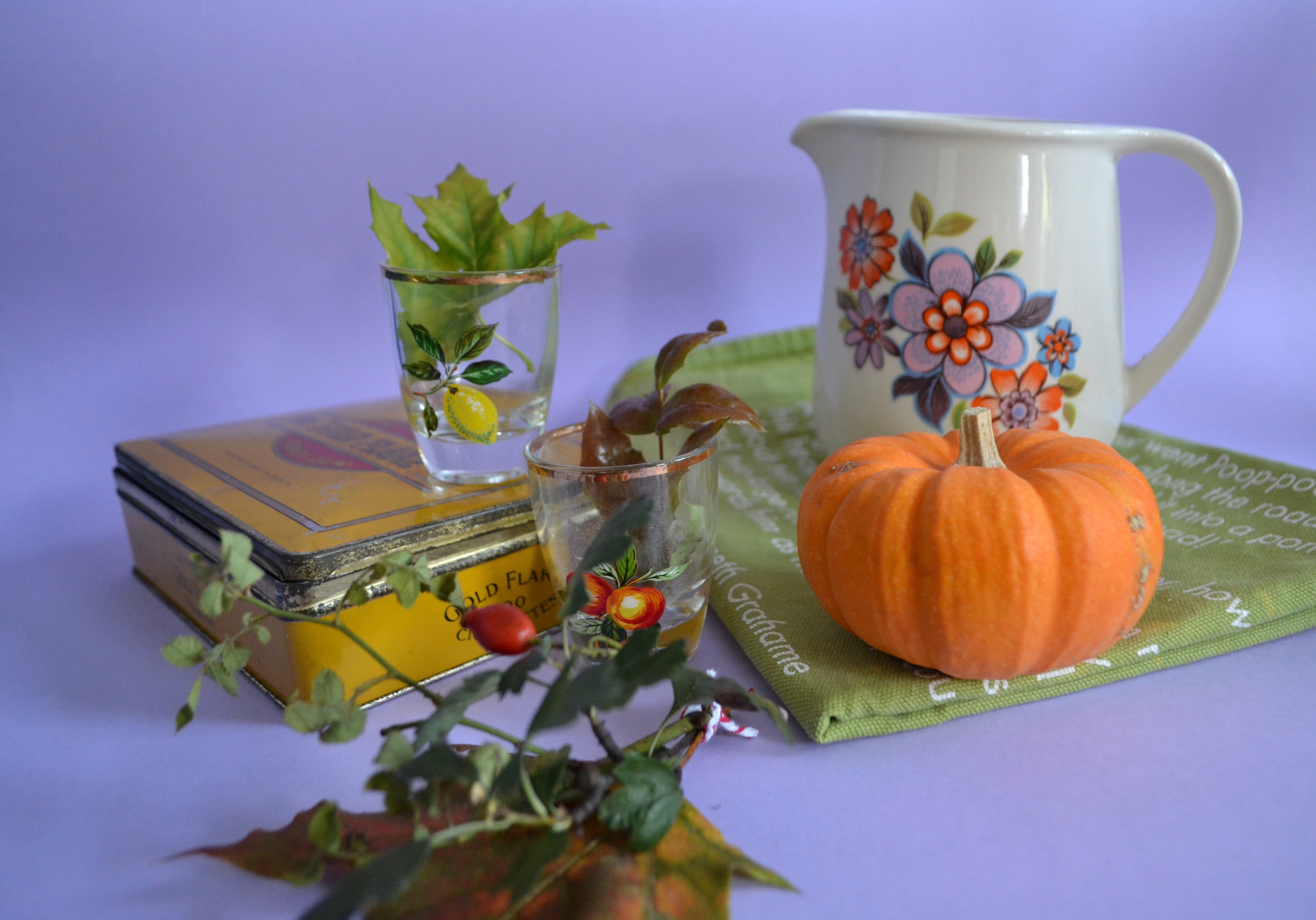 After much playing we discovered that to honour the leafy loveliness and vintage details the backdrop to the tables will need to be plain, neither of us can quite go for white, but brights seem to work really well off setting the muddier more rustic autumn colours. I love this purple alongside the natural elements, and I adore the leaves in the shot glasses - which is lucky as Alie and I have so many sets we can use! Such a cheap and pretty way to display the gorgeous leaves.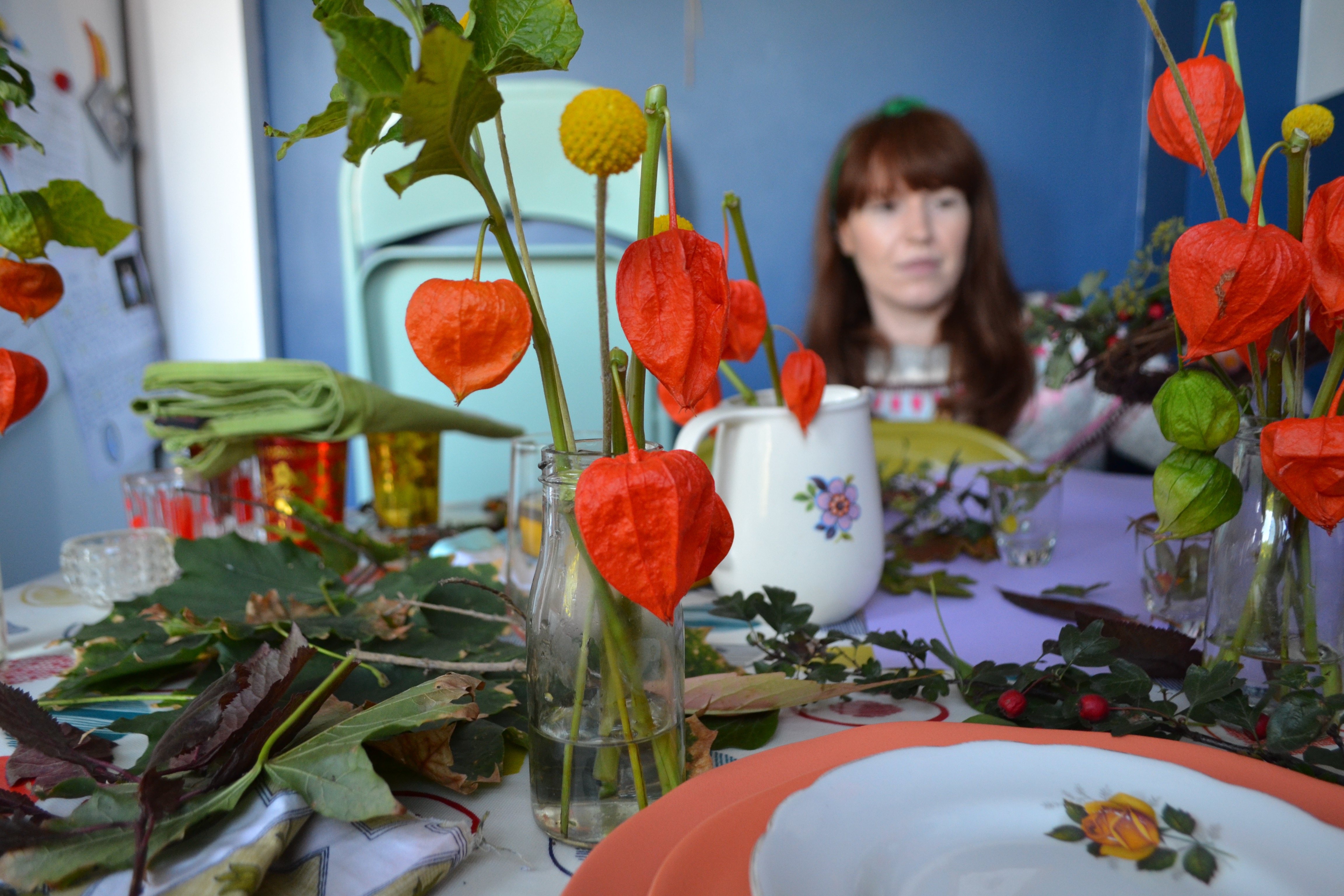 This is how my dining table looks while we work!Mini pumpkins are just the cutest things, and I almost thought they would make lovely little wedding favours, but that would work out fairly expensive, so I think a few here and there would be best. The white ones would add an extra bit of bridal detail and temper some of the brights. Conkers and acorns will also add another layer of texture to the tables, and as well as shot glasses I think that espresso cups would look great with little autumn posies peaking out.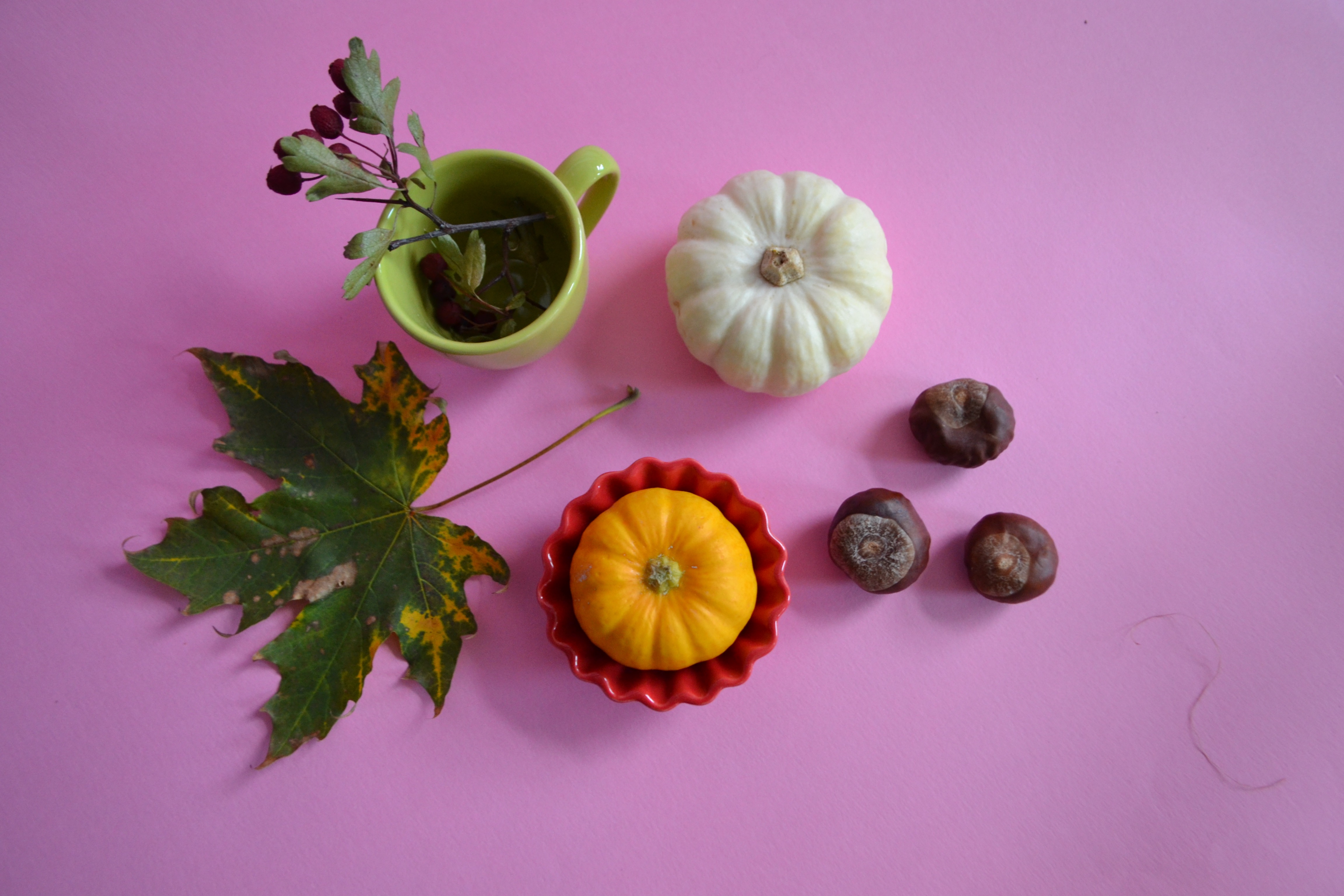 As you I'm sure you know we can't do anything without having little vintage fabric in it (and to be honest both of us could do with a good reason to use some more of our stash!), and so I think we're going to make napkins out of vintage cloth. This particular piece below is so Alie, and I think they would be a sweet thing that guest could take home to remind them of the day. I think I'm getting a little carried away but it would be so lovely to embroider initials on them to - I guess I need to get sampling!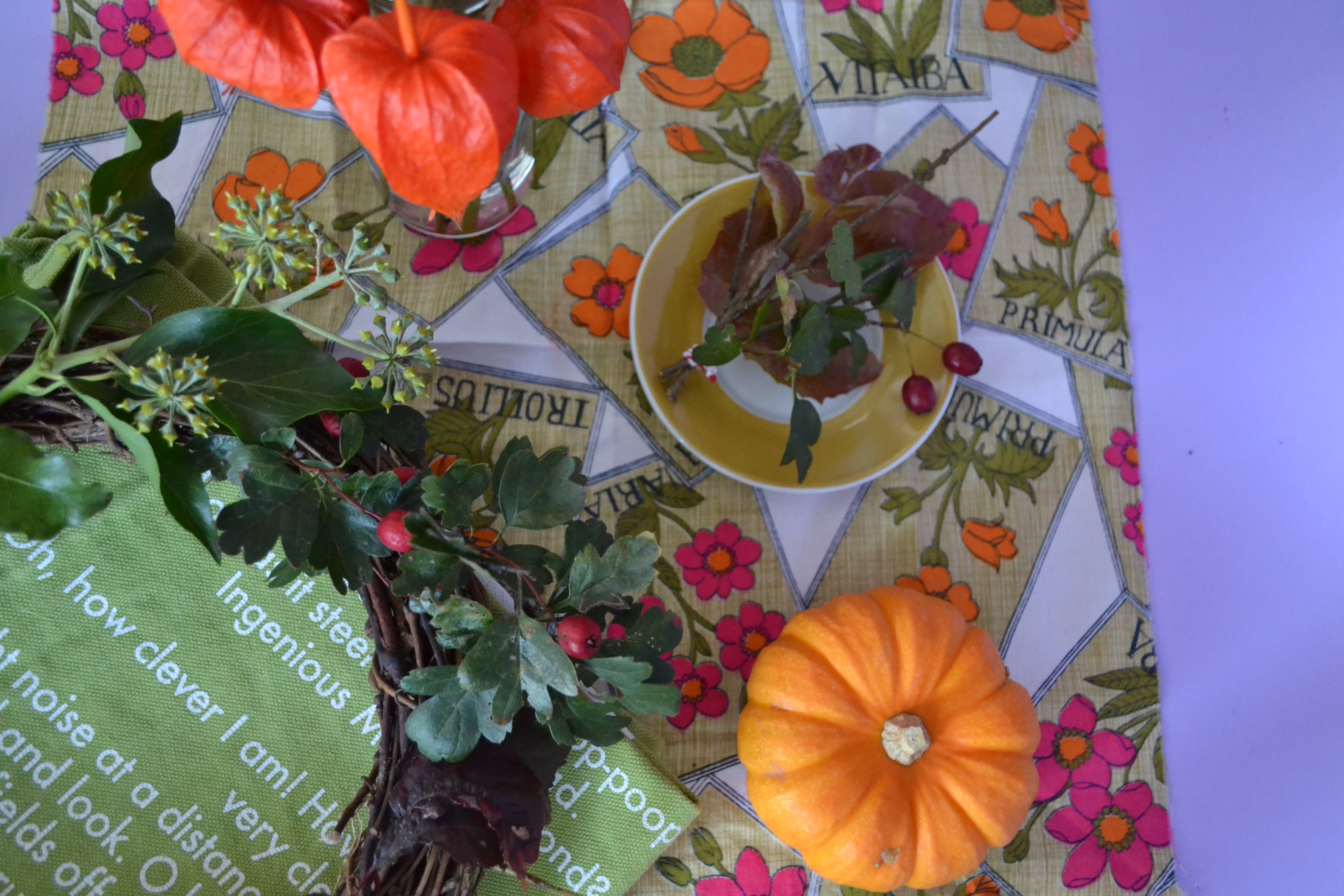 Chinese lanterns will definitely also feature, their amazing colour and beautiful shape coinciding brilliantly with the theme. Our Grandma has these in her garden and we've always loved them - they're amazing when they dry out completely and leave the most delicate lacy cage.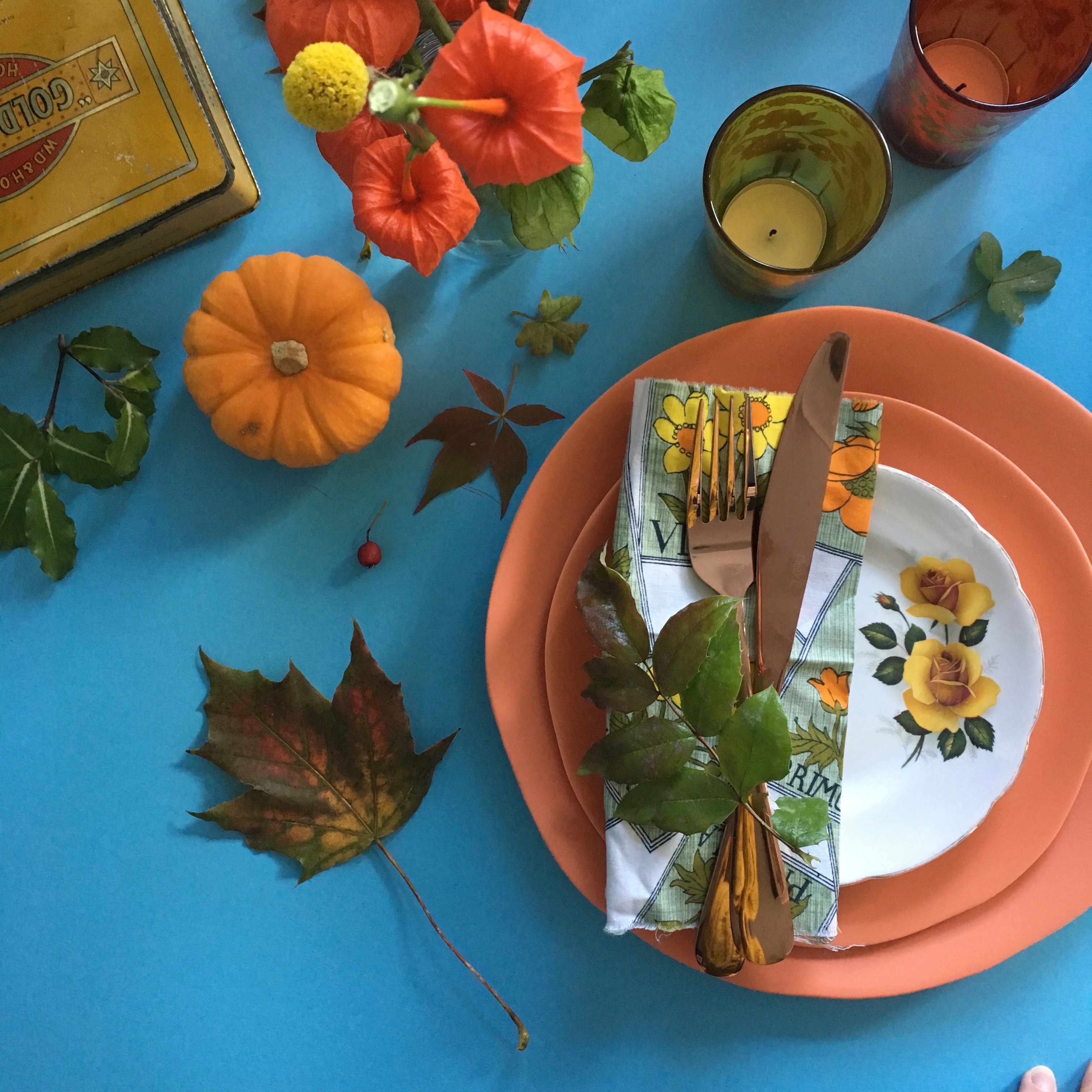 Vintage crockery will also feature highly, moroccan tea lights, glass votives and I'm on the hunt of candelabras to give a bit of height and light to the tables.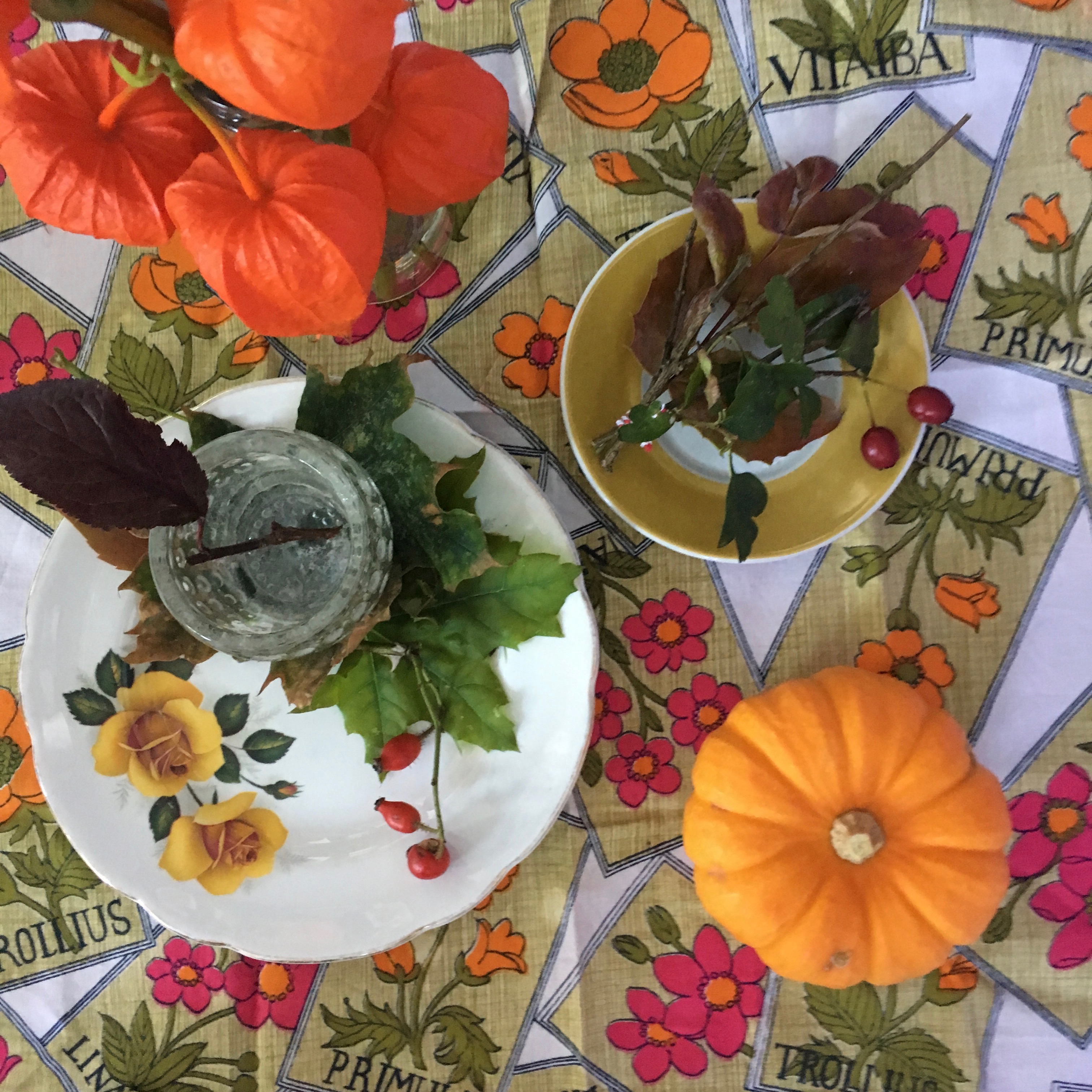 I also think that its nice to mix up the type of vessels for flowers and foliage on the tables, we both love beautiful everyday things like this maple syrup glass, old tea caddies and kitsch food cans which I think really gives such a lovely colourful eclectic look.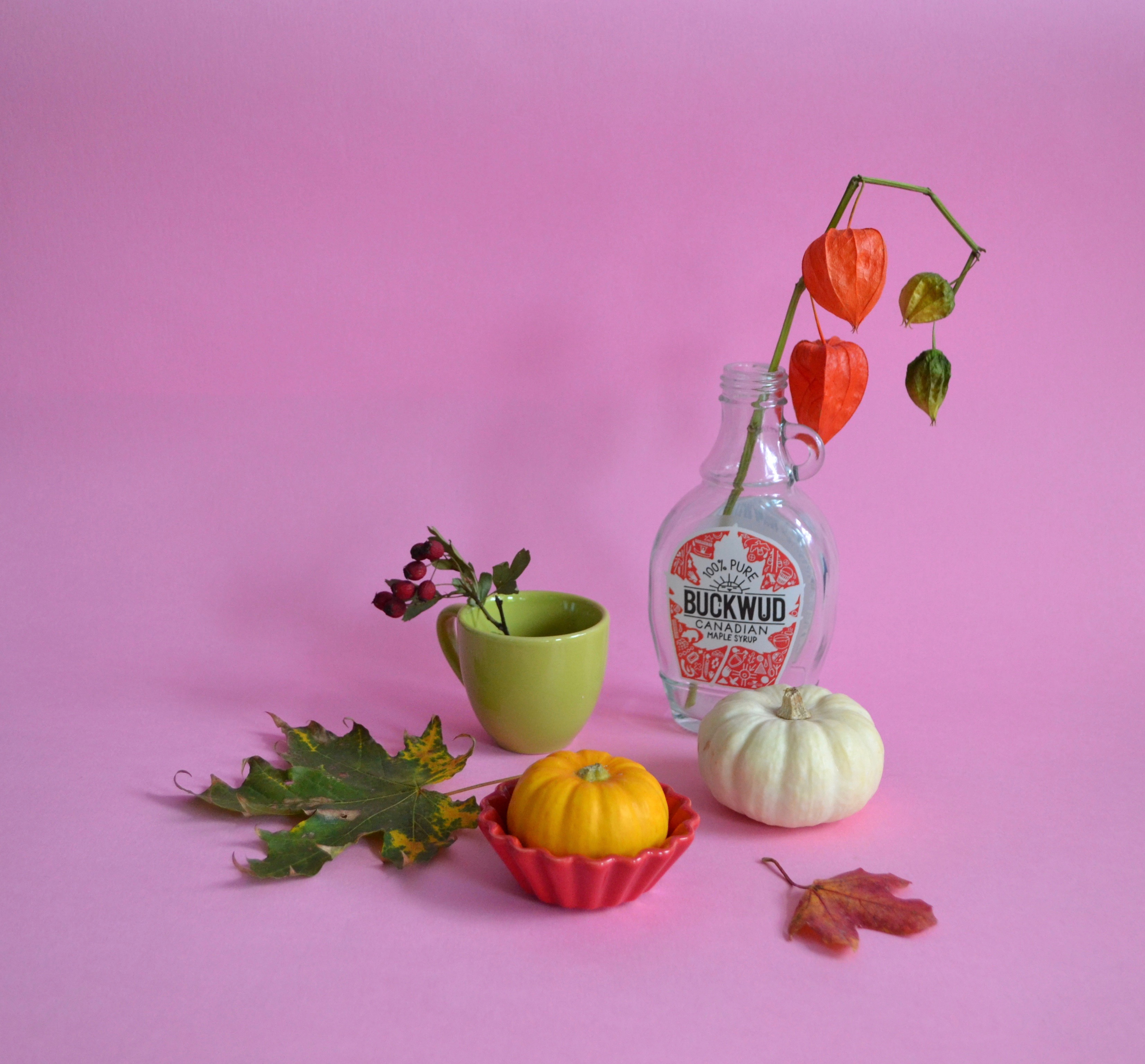 So that was our first practice! Let us know if any of you have done your own budget wedding and styled your own decor, we'd love any tips!
Posted under – Flowers
Tags – No tags where found for this post
---